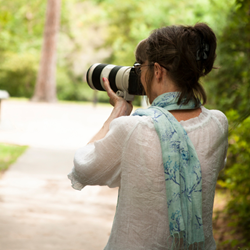 Knoxville, TN (PRWEB) September 15, 2015
Brookhaven Retreat ® LLC treated clients to a photography workshop by Bill Waldorf, photojournalist and commercial photographer, on Sept. 6. The workshop, designed to instruct clients on the basics of good photography from a professional standpoint, was presented as part of discharge planning, which takes place during a client's first week.
In order to prepare for a healthy and happy life following the 90-day Lily Program®, exclusively offered at Brookhaven Retreat, clients are provided with instruction such as this, to serve as guidance in finding and exercising creative outlets post-treatment.
"Art therapy is an experiential therapeutic approach that can offer healing on many different levels: socially, emotionally, spiritually, mentally and sometimes even physically," says Brookhaven Retreat's founder, Jacqueline Dawes.
Waldorf, whose photography clients include companies like SAKS Fifth Avenue, Vera Bradley, and Marc Nelson Denim, covered fundamentals of exposure using the exposure triangle, shutter speed, aperture and ISO. Understanding depth of field with various aperture settings was also covered in the workshop, as well as understanding the best shutter speed depending upon your subject. Waldorf also demonstrated the art of photography using examples of composition and light from great classical painters such as Johannes Vermeer.
Brookhaven Retreat's therapies with media, such as photography, are especially effective for women who are unable to express their feelings with words, Dawes adds. "They have never been allowed to or don't know what words to use. A trained art therapist will create different interventions based on a woman's individual needs to help her express with art what she cannot say in traditional talk therapy. This process can be more effective than traditional talk therapy because it allows women to indirectly confront themselves through imagery. It is much easier for women to talk about an image as it relates to them than to have a direct conversation about themselves. The artwork becomes an extension or mirror of a woman that she can reflect upon and consider in new ways."
About Brookhaven Retreat
Brookhaven Retreat is a women's treatment center nestled on a naturally beautiful 48-acre site secluded in the foothills of the Great Smoky Mountains. It has helped hundreds of women across the United States overcome depression, trauma, anxiety, substance use and a range of other behavioral health challenges. Brookhaven's Founder, Jacqueline Dawes, has predicated its gender-specific treatment on "healing emotional breakage" for women. In this way, she has established a sanctuary and a place where women can feel safe, secure and cared for by a staff of highly trained professionals.