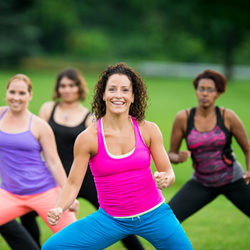 Knoxville, TN (PRWEB) May 14, 2015
Brookhaven Retreat® LLC, a unique residential treatment facility exclusively for women with emotional and mental health challenges, and/or substance abuse issues offers physical fitness activities during May in honor of Physical Fitness and Sports Month.
Brookhaven Retreat recognizes that physical fitness is an essential component of a healthy lifestyle that can produce long-term health benefits. Physical fitness has been shown to prevent chronic diseases, relieve stress, and increase the chances of living longer. Regular exercise improves both physical and mental health and is a vital part of a woman's holistic health. Physical activity causes the body to release endorphins and serotonin, which has been shown to fight depression, reduce stress and anxiety and improve mood. According to the Center for Disease Control and Prevention, participating in physical fitness activities on a regular basis can improve cognitive function, boost self-esteem, and improve sleep quality, an essential component in managing other mental health illnesses such as bipolar disorder.
For Physical Fitness and Sports Month, Brookhaven Retreat will offer individual physical fitness activities to all clients to include walking, dancing, Zumba, Barre class, body sculpting, hula-hooping, and weekly visits to an off site fitness center. Founder Jacqueline Dawes believes that making time for self-care in the form of physical exercise is essential toward establishing a healthy whole. She says, "Where the mind goes, the body follows. Physical symptoms of mental illness and substance abuse can lead to double trouble. Brookhaven Retreat embraces the connection between mental health and physical wellbeing." Brookhaven Retreat values both individual physical fitness and participation in team sports. To encourage participation in team sports, Brookhaven Retreat maintains an onsite sand volleyball court, badminton court, low ropes course, and a ball field.
About Brookhaven Retreat
Brookhaven Retreat is a women's treatment center nestled on a naturally beautiful 48-acre site secluded in the foothills of the Great Smoky Mountains. It has helped hundreds of women across the United States overcome depression, trauma, anxiety, substance use and a range of other behavioral health challenges. Brookhaven's Founder, Jacqueline Dawes, has predicated its gender-specific treatment on "healing emotional breakage" for women. In this way, she has established a sanctuary and a place where women can feel safe, secure and cared for by a staff of highly trained professionals.