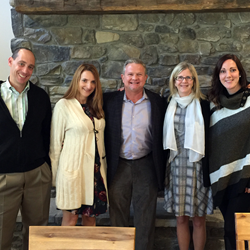 Knoxville, TN (PRWEB) November 03, 2015
Brookhaven Retreat ® LLC held a Documentation and Treatment Planning Session for staff members on October 20 at Dancing Bear Lodge in Townsend, TN.
Consultants Scott Migdole and Teresa Klenk met with staff members to discuss protocol surrounding treatment plans and client documentation to ensure the highest quality of care for women suffering from substance abuse and mental health issues. In order to offer the safest environment for their recovery, Brookhaven Retreat works diligently to exceed every standard of care with monthly evaluations and self-monitoring, which are critical aspects of the process.
Mr. Migdole, MSW, LCSW, Chief Operating Officer of Yale Behavioral Health and the Yale Program on Supervision, spoke to staff members about how to ensure the efficacy of care through the development of a clinically relevant, person-centered treatment plan. Mr. Migdole, who has worked with Brookhaven Retreat around staff development and support for more than five years, is also an Assistant Clinical Professor in the Department of Psychiatry at the Yale School of Medicine. His consultations regularly help staff to review standards of care, establish clinical strategies for acute clientele and translate complex administrative requirements into practice. This helps to support the Brookhaven Retreat philosophy around ensuring the uniqueness, safety and comfort of each client served at the facility.
Ms. Klenk serves as outside corporate legal counsel for Brookhaven Retreat LLC's legal matters. Ms. Klenk is a shareholder at Gentry, Tipton, and McLemore P.C. in Knoxville, Tennessee. She holds a law degree from the University of Tennessee School of Law and a LLM in taxation from New York University. Additionally, she has an undergraduate degree in accounting and is also a Certified Public Accountant (inactive status). Ms. Klenk has been admitted and licensed to practice in all Tennessee courts, the U.S. District Court for the Eastern District of Tennessee and the U.S. Tax Court. She is a member of the American Institute of Certified Public Accountants and the Knoxville, Tennessee, Knoxville Estate Planning Council, East Tennessee Tax Liaison Committee, and American Bar Associations.
Founder of Brookhaven Retreat, Jacqueline Dawes, says, "These two subjects of documentation and devising treatment plans are key factors in what sets Brookhaven Retreat apart from other treatment centers. Our goal is not only to stabilize a client. Brookhaven's belief is that to make real long-lasting changes, the concept of the self must be reconstructed on a stronger foundation to make sure relapse does not occur. This kind of reconstruction is not a speedy process. While stabilization could happen in 30 days, the rebuilding of the self takes 90 days or longer."
About Brookhaven Retreat
Brookhaven Retreat is a women's treatment center nestled on a naturally beautiful 48-acre site secluded in the foothills of the Great Smoky Mountains. It has helped hundreds of women across the United States overcome depression, trauma, anxiety, substance use and a range of other behavioral health challenges. Brookhaven's Founder, Jacqueline Dawes, has predicated its gender-specific treatment on "healing emotional breakage" for women. In this way, she has established a sanctuary and a place where women can feel safe, secure and cared for by a staff of highly trained professionals.