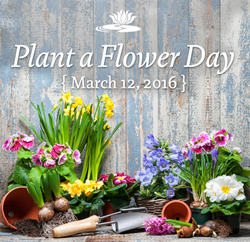 Knoxville, TN (PRWEB) March 15, 2016
Brookhaven Retreat ® LLC, a unique residential treatment facility exclusively for women with mental health and/or substance abuse issues, recently participated in National Plant a Flower Day on March 12. Clients planted daffodils and tulips to practice mindfulness on the beautifully manicured grounds of the facility located in Seymour, TN.
Garden Therapy is one of the many therapeutic facets of The Lily Program ®, the 90-day overarching framework for the progressive services at Brookhaven Retreat. The act of nurturing plants and flowers is a powerful tool for mental health, recovery and well-being, which all contribute to the ability to create a life worth living. It provides an opportunity for contemplation, stress release and soaking up the sun's source of Vitamin D.
"We believe spending time outside during recovery from mental health issues, addiction, abuse or other difficult circumstances is infinitely healing," says Jacqueline Dawes, founder of Brookhaven Retreat. "Gardening is a wonderful way for our clients to practice the art of mindfulness. In other words, while they're planting beautiful flowers, their depression and anxiety levels are reduced, and inner tranquility and positive thoughts are inspired. Mindfulness-the art of living in the moment-can only be mastered when it is practiced on a regular basis."
The American Horticultural Therapy Association reports the many benefits of gardening. Some of them include:

Improved mental health for people with acute or persistent mental health problems or particularly difficult personal circumstances.
Improved social interaction and community cohesion.
Reduced stress, the severity of stress and associated depression.
Diminished reliance on medication.
Reduced incidents of self-harming behavior.
Improved alertness and cognitive abilities.
Improved mental outlook for those battling drug and alcohol addiction.
The Centers for Disease Control and Prevention (CDC) recommends a moderate-intensity level activity for 2.5 hours each week to reduce the risk for obesity, high blood pressure, type 2 diabetes, osteoporosis, heart disease, stroke, depression, colon cancer and premature death.
"We cannot forget the aspect of physical health and the opportunity for exercise one experiences in the garden," adds Dawes. "Breathing fresh air and the increased oxygen to the body is also healing, and the increase in blood flow while bending and stretching, make for the perfect combination of benefits. Tending to the garden also means tending to the mind, body and spirit, and strengthening their connection. During the process of recovery, nothing is more important than that."
About Brookhaven Retreat
Brookhaven Retreat is a women's treatment center nestled on a naturally beautiful 48-acre site secluded in the foothills of the Great Smoky Mountains. It has helped hundreds of women across the United States overcome depression, trauma, anxiety, substance use and a range of other behavioral health challenges. Brookhaven's Founder, Jacqueline Dawes, has predicated its gender-specific treatment on "healing emotional breakage" for women. In this way, she has established a sanctuary and a place where women can feel safe, secure and cared for by a staff of highly trained professionals.