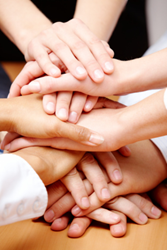 Knoxville, TN (PRWEB) May 01, 2014
Brookhaven Retreat welcomed professional consultants Scott Migdole and Dr. Jennifer Payne to continue the review of clinical policies and procedures on April 23-24. The two-day visit allowed the consultants to first meet with clients at the facility, and then conduct staff discussions and training at the Ruby Tuesday Lodge the following day.
Owner and founder Jacqueline Dawes was in attendance, along with staff from all departments including clinical care, administration and housekeeping. Having a diverse group offers opinions and viewpoints from all areas of care at the facility, ensuring the highest level of quality care and safety can be achieved.
The training, led by Scott Migdole, started with breakfast and completion of the two-part in-depth Columbia Suicide Assessment training that began in March. Staff joined in on the open dialogue regarding new and existing safety codes and the corresponding procedures.
The group reconvened after lunch to review the effectiveness of existing treatment plans and discuss any necessary changes. The dietitian, therapists and psychiatrists took part in the discussion of a thorough treatment plan centered on emotional, physical and mental well-being that can be easily understood by the client.
"Our goal is to establish a person-centered treatment plan," stated Migdole. By utilizing an individualized treatment program, primary therapists are able to take a personalized approach to each client, supporting one's own strengths and "lesser strengths."
On-going training, open discussions and diverse viewpoints are what make Brookhaven Retreat's approach to mental health care unique and efficacious. By collaborating with top professional consultants Scott Migdole and Dr. Jennifer Payne, Brookhaven Retreat continues to offer the highest level of care and helps women successfully heal from mental health and substance abuse issues.
About Brookhaven Retreat
Brookhaven Retreat is a women's treatment center nestled on a naturally beautiful 48-acre site secluded in the foothills of the Great Smoky Mountains. It has helped hundreds of women across the United States overcome depression, trauma, anxiety, substance use and a range of other behavioral health challenges. Brookhaven's Founder, Jacqueline Dawes, has predicated its gender-specific treatment on "healing emotional breakage" for women. In this way, she has established a sanctuary and a place where women can feel safe, secure and cared for by a staff of highly trained professionals.