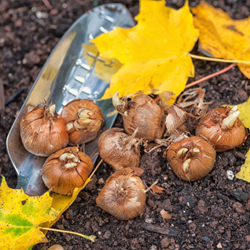 Knoxville, TN (PRWEB) October 15, 2015
Brookhaven Retreat observed Pregnancy and Infant Loss Remembrance Day by planting tulips on the beautifully manicured grounds of Brookhaven Retreat on October 15.
As a day of remembrance for pregnancy loss and infant death, which includes but is not limited to miscarriage, stillbirth, SIDS, or the death of a newborn, this special day was created as a way to honor the memory of all the angel children that have been lost, and promote support, education, and awareness of this topic worldwide.
The Pregnancy and Infant Loss Awareness Movement began in the United States in 1987. On October 25, 1988, American President Ronald Reagan designated the entire month of October as Pregnancy and Infant Loss Awareness Month.
The October 15th Pregnancy and Infant Loss Remembrance Day (PAILRD) Campaign began in 2002 as an American movement started by Robyn Bear, Lisa Brown, and Tammy Novak. Together, they petitioned the federal government, as well as the governors of each of the 50 states, and by October 15, 2002 (the first observance of PAILRD) 20 states had signed proclamations recognizing the date as such.
According to the Hiring for Hope website, 90,000 children die every year before their first birthday, and nearly 2,500 babies are lost/year in the United States due to S.I.D.S.
About 30,000 babies a year are born stillborn. The number of stillbirths that occur worldwide jumps to more than 4.5 million/year.
More babies die as a result of stillbirth than all other causes of infant death combined. Stillbirth occurs ten times more frequently than S.I.D.S. Fifteen to 20 percent of all clinically recognized pregnancies end in miscarriage each year.
Brookhaven Retreat can help women gain perspective during the painful process of bereavement. The Lily Program® is a 90-day comprehensive treatment program offering a variety of clinical program modalities, beginning with the creation of an individualized treatment plan tailored specifically for each client.
Founder of Brookhaven Retreat, Jacqueline Dawes, says, "When a woman comes to Brookhaven Retreat she is at her most vulnerable and needs a supportive and nurturing healing environment. As women progress through the program they move from an initial focus on gaining insight and working on past issues to a more present-centered, 'here and now' focus."
Dawes adds, "Losing a child changes everything about your life forever," she says. "It changes how you think, how you feel, how you interface in all other relationships. You are never over it, but you slowly find new ways to live with the loss and come to deeply appreciate there is nothing as valuable as life itself."
About Brookhaven Retreat
Brookhaven Retreat is a women's treatment center nestled on a naturally beautiful 48-acre site secluded in the foothills of the Great Smoky Mountains. It has helped hundreds of women across the United States overcome depression, trauma, anxiety, substance use and a range of other behavioral health challenges. Brookhaven's Founder, Jacqueline Dawes, has predicated its gender-specific treatment on "healing emotional breakage" for women. In this way, she has established a sanctuary and a place where women can feel safe, secure and cared for by a staff of highly trained professionals.