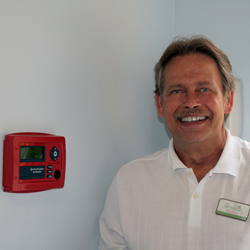 Knoxville, TN (PRWEB) September 23, 2015
Brookhaven Retreat® LLC, a unique residential treatment facility exclusively for women with emotional and mental health challenges, and/or substance abuse issues, observes National Preparedness Month in September.
Each month in the in-house newsletter, Brookhaven Retreat staff members are asked to review the aspects of a given emergency code to keep the information fresh in everyone's minds. To honor National Preparedness Month, the chosen code was Code Blue Level 2 Medical Emergency, which indicates a "Life Threatening" medical emergency such as cardiac/respiratory arrest or seizure activity.
As part of their protocol in any code, certain steps must be taken to ensure safety. The staff at Brookhaven Retreat has been previously instructed and is therefore prepared in the knowledge that Code Blue always requires prompt and immediate attention. For instance, both the nurse on duty and the front office are to call 911. All nursing staff and physicians present will respond to the site to evaluate the situation and determine necessary actions to be taken.
The specifics of the procedure, as previously taught and published in the September newsletter, are as follows:
1. Upon being informed of a "Code Blue Level 2" the nurse on duty will immediately call 911.
2. Announce "Code Blue Level 2" clearly three (3) times on the overhead announcing system (850) and over the phones (851) giving the exact location.
3. Respond to the location with the AED and the emergency cell phone.
4. Institute emergency measures i.e.: CPR
Since its inception in 2004, National Preparedness Month has been observed each September in the U.S. Sponsored by the Federal Emergency Management Agency (FEMA) within the Department of Homeland Security. This observance encourages people to prepare for emergencies in their homes, businesses, schools, and communities. FEMA's Ready Campaign, the correlating public education outreach campaign, disseminates information related to emergency situations including natural disasters and potential terrorist attacks.
Being prepared, no matter where you are, means having a plan in case unforeseen events present themselves. Remember to keep everyone in mind while making a plan, whether you are at home, at work, in the car or in a public place. Accidents can happen and we are better off and safer to have a plan than caught by surprise without knowledge of what to do and how to do it.
Learn what to do in case of natural disasters, such as in a flood, hurricane, tornado, wild fire or winter storm on FEMA's website, http://community.fema.gov/take-action/hazards, and be prepared to stay safe.
About Brookhaven Retreat
Brookhaven Retreat is a women's treatment center nestled on a naturally beautiful 48-acre site secluded in the foothills of the Great Smoky Mountains. It has helped hundreds of women across the United States overcome depression, trauma, anxiety, substance use and a range of other behavioral health challenges. Brookhaven's Founder, Jacqueline Dawes, has predicated its gender-specific treatment on "healing emotional breakage" for women. In this way, she has established a sanctuary and a place where women can feel safe, secure and cared for by a staff of highly trained professionals.