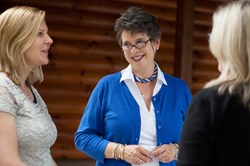 Knoxville, TN (PRWEB) September 03, 2013
On August 26, 27 and 28, Dr. Jennifer Payne and Dr. Lynne Swisher visited Brookhaven Retreat to conduct a peer review of psychiatrists Dr. Wood and Dr. Sarasti and discuss the evolution of Brookhaven Retreat's residential program.
Dr. Swisher is a senior consultant for Stevens & Lee in Lancaster, Pa., and a member of Brookhaven Retreat's consulting team. She oversees Brookhaven Retreat's performance initiatives as well as all performance improvement committees and ensures compliance with Joint Commission standards.
Because Brookhaven Retreat is in compliance with all standards of care, Dr. Swisher reviewed improvement initiatives and identified ways in which the facility can exceed standards to promote the highest quality of residential care.
Dr. Jennifer Payne's peer review of Brookhaven Retreat's medical team allows the doctors to connect in person to discuss complex mental health cases. By sharing insight and pooling their expertise, Brookhaven Retreat's medical team is able to provide the highest quality of care and most informed treatment solutions to women with mental health and substance abuse issues.
Brookhaven Retreat's consulting team also met with owner and founder Jacqueline Dawes about the future of the program. Brookhaven Retreat is beginning the process of refining its residential program. It currently offers the Lily Program, an individualized 90-day treatment program for substance abuse and mental health issues. The Lily Program includes an ongoing treatment plan, psychiatric sessions, individual and group therapy sessions, skills groups and a family program.
To this, Brookhaven Retreat is working on adding the Sweet Pea Program, a skills and experiential group based program that will focus on life skill classes taught by Brookhaven Retreat's medical director, therapists and other expert staff.
Often, women suffering from depression, substance abuse and mental illness have not cooked for themselves, do not know the basics of nutrition, have destroyed their finances and family lives and no longer know how to care for themselves. Classes on health management, financial planning, technology, cooking and self-care will equip women with the skills to create healthy and fulfilling lives after discharge.
Since it opened in 2006, Brookhaven Retreat has continuously refined and improved its procedures to deliver the highest possible standards of mental health care to women with substance abuse, mood disorder and other mental health issues. The new program will again raise the bar of mental health treatment by delivering comprehensive solutions relating to all areas of life.
About Brookhaven Retreat
Brookhaven Retreat is a women's treatment center nestled on a naturally beautiful 48-acre site secluded in the foothills of the Great Smoky Mountains. It has helped hundreds of women across the United States overcome depression, trauma, anxiety, substance use and a range of other behavioral health challenges. Brookhaven's Founder, Jacqueline Dawes, has predicated its gender-specific treatment on "healing emotional breakage" for women. In this way, she has established a sanctuary and a place where women can feel safe, secure and cared for by a staff of highly trained professionals.