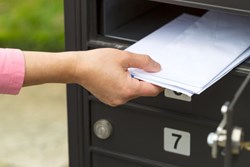 Knoxville, TN (PRWEB) August 15, 2013
Brookhaven Retreat's annual psychiatrist mail out effort reaches thousands of psychiatrists across the U.S. In August, it is excited to begin printing its exclusive materials for this year's mail out project.
This year's mail out will contain an elegant, personalized notepad, branded sticky note pad and a flashlight keychain. This differs from last year's mail out, which included a calendar, notepad and feelings booklet.
Last year's feelings booklets were a huge success. They enabled women to associate feelings with pictures and words when they had trouble expressing their emotions. The booklets received positive feedback from psychiatrists across the U.S., and Brookhaven Retreat is confident that this year's mail out will be just as exciting.
Brookhaven Retreat distributes its mail out materials to psychiatrists in all 50 states. The packages allow Brookhaven Retreat to inform doctors about its program, especially if doctors have not yet had contact with Brookhaven Retreat through the internet or during the American Psychiatric Association's Annual Meeting.
The mail out builds important relationships between Brookhaven Retreat and psychiatrists who may have patients who would benefit from a women-only dual diagnosis residential treatment facility. Brookhaven Retreat's dependable yearly mail out materials communicate its treatment philosophy and unique program components to psychiatrists.
The annual mail out enables women to be directed to appropriate health care channels. Sometimes, outpatient treatment is not enough. When women require more intensive treatment for trauma, substance abuse, depression, anxiety and other mental health issues, residential treatment may be the best option. The mail out allows Brookhaven Retreat to reach women through their doctors.
Brookhaven Retreat is excited to keep in contact with the psychiatrists it has built relationships with over the years. It is certain recipients will be thrilled with this year's materials. Packages are to be printed in August and mailed in October, and Brookhaven Retreat looks forward to psychiatrists' feedback.
About Brookhaven Retreat
Brookhaven Retreat is a women's treatment center nestled on a naturally beautiful 48-acre site secluded in the foothills of the Great Smoky Mountains. It has helped hundreds of women across the United States overcome depression, trauma, anxiety, substance use and a range of other behavioral health challenges. Brookhaven's Founder, Jacqueline Dawes, has predicated its gender-specific treatment on "healing emotional breakage" for women. In this way, she has established a sanctuary and a place where women can feel safe, secure and cared for by a staff of highly trained professionals.