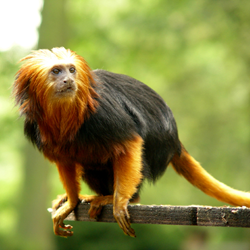 Knoxville, TN (PRWEB) December 08, 2015
Brookhaven Retreat® LLC, a unique residential treatment facility exclusively for women with emotional and mental health challenges, and/or substance abuse issues recently treated clients to a therapeutic outing to the Rainforest Adventures Discovery Zoo in Sevierville, TN followed by Hobby Lobby on November 28.
The Rainforest Zoo has been themed by one of the nation's finest zoological contractors, whose work includes Animal Kingdom at Disney World, and features more than 600 live animals representing more than 130 species. A recent addition to the Rainforest section of the zoo are the Golden Headed Lion Tamarins from the Atlantic forests of eastern Brazil, which happen to be some of the smallest and rarest monkeys on earth.
Animal therapy is known to reduce tension and act as a mood enhancer, which means clients who suffer from stress and depression benefit. In addition clients may also have experienced lowered blood pressure and heart rate as they relaxed into such an experience, as well as a reduction in the severity of pain from physical illness.
As part of The Lily Program®, a 90-day program for women offered exclusively at Brookhaven Retreat, clients enjoy diverse therapeutic trips as an opportunity for education, recreation and intellectual stimulation outside the Seymour Tennessee-based facility. Weekly outings are an inherent aspect of exposure therapy.
Brookhaven Retreat's founder Jacqueline Dawes, says, "The outings provide the opportunity to experience the kinds of things clients do after they leave, just as they typically did before they arrived. However, after completing the program, there's a difference as they approach each situation they find themselves in with a new awareness and new skills, such as mindfulness. It applies in every aspect of life. Problems cannot be addressed and healing cannot be done without mindfulness. It's the art of living in the moment and appreciating not only what's going on, but the presence of your emotions and how you're processing them."
About Brookhaven Retreat
Brookhaven Retreat is a women's treatment center nestled on a naturally beautiful 48-acre site secluded in the foothills of the Great Smoky Mountains. It has helped hundreds of women across the United States overcome depression, trauma, anxiety, substance use and a range of other behavioral health challenges. Brookhaven's Founder, Jacqueline Dawes, has predicated its gender-specific treatment on "healing emotional breakage" for women. In this way, she has established a sanctuary and a place where women can feel safe, secure and cared for by a staff of highly trained professionals.