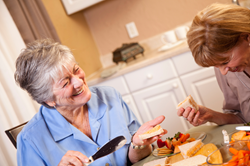 Knoxville, TN (PRWEB) February 19, 2015
At Brookhaven Retreat, we know the power of thought and the influence of random acts of kindness to any and many. It heals your own heart and forms self love of the purist kind. The greater your acts of kindness, the happier your mood and the moods of others will become.
On February 17th, Random Acts of Kindness Day, Brookhaven Retreat celebrated by playing random act of kindness tag. Some suggestions our team came up with were:
Give simple compliments to anyone you meet. Leave a sweet note for your family, friends, or work colleagues, bake a tasty treat or share something as close to you as your smile. Why not do something today to make somebody feel extra special?
Do the obvious things and hold a door for somebody, share a sandwich, say thank you to those that assist you. Kindness is beauty of the most powerful enduring kind. Kind words are often not forgotten by the receiver for their whole lifetime. They can be a lifeline in a time of trauma, a game changer during a tragedy and a real light on the road of the really emotionally darkest places.
Your kind words and actions, however random they are, may really make the difference in someone's life. We challenge you to pick a day to be mindfully kind and you will have a day to remember.
About Brookhaven Retreat
Brookhaven Retreat is a women's treatment center nestled on a naturally beautiful 48-acre site secluded in the foothills of the Great Smoky Mountains. It has helped hundreds of women across the United States overcome depression, trauma, anxiety, substance use and a range of other behavioral health challenges. Brookhaven's Founder, Jacqueline Dawes, has predicated its gender-specific treatment on "healing emotional breakage" for women. In this way, she has established a sanctuary and a place where women can feel safe, secure and cared for by a staff of highly trained professionals.