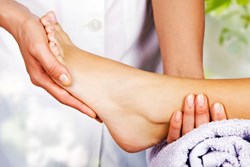 Knoxville, TN (PRWEB) November 26, 2013
In November, Brookhaven Retreat welcomes a new reflexologist on staff who will continue its reflexology program. Brookhaven Retreat offers these weekly reflexology sessions as part of its mental health and substance abuse recovery program.
Reflexology involves applying physical pressure to specific points on the hands and feet. Specific areas linked with corresponding areas of the body, and a reflexologist can gain a general idea of a person's mental and physical health through applied pressure. When used in conjunction with appropriate treatment, reflexology can complement medical and therapeutic approaches to improve women's health.
Massage is therapeutic, but reflexology goes beyond that to tap into a woman's mental and emotional state. A study funded by the National Cancer Institute and National Institutes of Health found that reflexology can improve the quality of sleep, lessen pain and reduce psychological symptoms including anxiety and depression.
Brookhaven Retreat's reflexology sessions also encourage women to schedule self-time. Many negative thought and behavior patterns are caused by poor self-esteem. Women who do not love themselves neglect their social, emotional and financial lives, harming mental health. Part of the recovery process involves helping women find respect and love for themselves, and self-time nurtures this process.
Reflexology teaches women to be in tune with the body's physical needs as a way of maintaining mental health. A reflexologist can tell if a woman is dealing with anxiety, low self-esteem and other issues and can follow her progress throughout treatment.
Weekly reflexology sessions help women better understand the emotional states that may be hindering recovery. A woman can self-discover and build a more holistic picture of her mental and physical health through reflexology. The more self-aware a woman becomes, the better able she is to face her own truth and become an active participant in her recovery.
Reflexology is part of a schedule of self-care that reminds women to take time out for themselves as part of creating a healthy life. The women in Brookhaven Retreat's program can sign up for 20-minute reflexology sessions available throughout the day on Fridays.
About Brookhaven Retreat
Brookhaven Retreat is a women's treatment center nestled on a naturally beautiful 48-acre site secluded in the foothills of the Great Smoky Mountains. It has helped hundreds of women across the United States overcome depression, trauma, anxiety, substance use and a range of other behavioral health challenges. Brookhaven's Founder, Jacqueline Dawes, has predicated its gender-specific treatment on "healing emotional breakage" for women. In this way, she has established a sanctuary and a place where women can feel safe, secure and cared for by a staff of highly trained professionals.