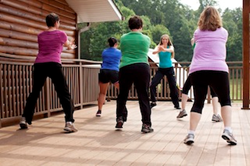 Knoxville, TN (PRWEB) December 30, 2014
During the warm and sunny weather of spring, summer and early fall, establishing a fitness routine that is easily maintained can be fun and include many outdoor activities that are enjoyable. However, as we enter the colder and shorter winter days in the months of December and January, maintaining this healthy fitness routine can be challenging.
Exercise is a vital part of a woman's holistic health. When a woman exercises, her body releases feel-good neurotransmitters called endorphins. Endorphins, including serotonin, help fight depression, reduce stress and anxiety and boost our mood. According to the Center For Disease Control and Prevention (CDC) regular physical fitness can also improve cognitive function, boost self-esteem and allow for better sleep, a critical component in managing other mental health illnesses such as bipolar disorder.
For women recovering from mental health issues, making time for self-care in the form of physical exercise is essential toward establishing a healthy whole. Brookhaven Retreat offers weekly visits to the local gym and twice-weekly onsite Zumba® classes led by a licensed instructor. Although, the cold weather can impact a woman's options and desire to exercise, keeping a healthy routine throughout the entire year can safeguard emotional and mental health.
As part of its holistic approach to mental health, Brookhaven Retreat acknowledges the role exercise plays in recovery. Throughout the month of December and into the month of January, Brookhaven Retreat continues to emphasize the importance of regular exercise to improve wellness despite the cold weather.
About Brookhaven Retreat
Brookhaven Retreat is a women's treatment center nestled on a naturally beautiful 48-acre site secluded in the foothills of the Great Smoky Mountains. It has helped hundreds of women across the United States overcome depression, trauma, anxiety, substance use and a range of other behavioral health challenges. Brookhaven's Founder, Jacqueline Dawes, has predicated its gender-specific treatment on "healing emotional breakage" for women. In this way, she has established a sanctuary and a place where women can feel safe, secure and cared for by a staff of highly trained professionals.