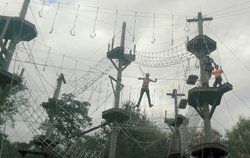 Knoxville, TN (PRWEB) October 16, 2014
Brookhaven Retreat is excited to congratulate primary therapist, Lana Wilcox and Lead Program Counselor, Erin Watson on completing the Association for Challenge Course Technology (ACCT) ropes course training this month and are now Level 1 Ropes Course Professionals.
The training took place October 6-11, in Blowing Rock, North Carolina. Ropes course is a type of experiential therapy offered by Brookhaven Retreat. It consists of high and low elements that create a challenging activity that encourages personal development. The ropes course is nestled on Brookhaven Retreat's 50-acres, and consists uniquely of low elements designed to mentally and emotionally challenge women recovering from mental health and substance abuse issues.
The ropes course is not about physical strength but rather the exploration of pain and issues that interfere with the recovery process. Each exercise on a ropes course is meant to promote interpersonal skills such as trust, communication, leadership, problem solving and self-discovery. Cooperative tasks push women to depend upon and open themselves to others. For women recovering from trauma or isolation, this can help break down barriers and allow other therapies to be more effective.
"I feel ropes course is an important group for each of the women to experience because its hands on learning and exploration of themselves," states Erin. "It gives them experiences that they would not get anywhere else. They find themselves challenged in ways that they haven't been before, and are successful."
Emotional reactions such as fear of falling or fear of failure, prompt discoveries about anxiety or self-esteem issues that women can then address in therapy. With the help of a certified therapist, women are able to rebuild trust in others and assurance in themselves.
Brookhaven Retreat remains dedicated to providing high quality care to women, and the continued education and growth of its staff is a critical part in doing so. For eight years, ropes course therapy has been an integral tool in self-discovery at Brookhaven Retreat, and has enabled many women to process mental and emotional health issues.
Brookhaven Retreat is excited to have a talented team that is committed to providing the best care and comprehensive treatment to women as they begin their journey to emotional and mental wellness.
About Brookhaven Retreat
Brookhaven Retreat is a women's treatment center nestled on a naturally beautiful 48-acre site secluded in the foothills of the Great Smoky Mountains. It has helped hundreds of women across the United States overcome depression, trauma, anxiety, substance use and a range of other behavioral health challenges. Brookhaven's Founder, Jacqueline Dawes, has predicated its gender-specific treatment on "healing emotional breakage" for women. In this way, she has established a sanctuary and a place where women can feel safe, secure and cared for by a staff of highly trained professionals.