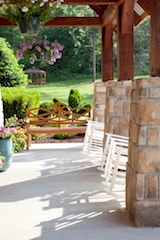 Knoxville, TN (PRWEB) April 03, 2014
Brookhaven Retreat's leading consultants Scott Migdole and Dr. Jennifer Payne led training on the Columbia Suicide Severity Rating Scale and safety codes at Blackberry Farm in Maryville, Tenn. on March 25. Staff from all departments attended, as well as founder Jacqueline Dawes.
Suicide is the 10th leading cause of death for all ages and professionals have been searching for a way to reduce these staggering statistics. According to research, between 20 to 50 percent of people with bipolar disorder attempt suicide at least once.
Dr. Payne states, "The decision was made that we needed to have a standardized way of assessing suicidal risk and the severity of it that we could link to policy regarding observation levels and safety. The Columbia Assessment provides that."
Women suffering from depression, substance abuse and mood and personality disorders are at a much higher risk of attempting suicide. As stated by the National Alliance of Mental Illness, over 90 percent of people who have committed suicide have been diagnosed with mental illness, therefore it is crucial mental health facilities and treatment centers are prepared with the most up to date prevention methods.
Making sure that all staff understands the Columbia Assessment and updated safety procedures undertaken by the facility helps maintain the highest standards of safety and care at Brookhaven Retreat. This training is part of an ongoing effort to ensure new and current staff are able to deliver the very best care to women suffering from mental health and substance abuse issues.
About Brookhaven Retreat
Brookhaven Retreat is a women's treatment center nestled on a naturally beautiful 48-acre site secluded in the foothills of the Great Smoky Mountains. It has helped hundreds of women across the United States overcome depression, trauma, anxiety, substance use and a range of other behavioral health challenges. Brookhaven's Founder, Jacqueline Dawes, has predicated its gender-specific treatment on "healing emotional breakage" for women. In this way, she has established a sanctuary and a place where women can feel safe, secure and cared for by a staff of highly trained professionals.