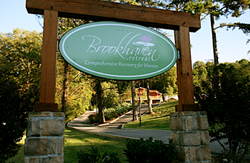 Knoxville, TN (PRWEB) January 28, 2014
On January 23, Brookhaven Retreat met with its consultant Scott Migdole. Scott is the Chief Operating Officer of both Yale Behavioral Health and the Yale Program on Supervision. His routine visits to Brookhaven Retreat focus on continuing to enhance the facility's quality of care.
Brookhaven Retreat schedules consultant visits as an important aspect of its program quality. Visits such as Scott's strengthen the program in order to enhance organizational effectiveness and quality of care.
During January's visit, Brookhaven Retreat's founder and managers met with Scott to discuss a range of clinical and administrative policies related to risk management, use of the Colombia Suicide Assessment and policy development. Scott also met with administrators to discuss treatment planning, clinical practice and practice standards.
Such visits support the managerial and clinical teams by driving Brookhaven Retreat's push for excellence. Consultants offer both the tools and training to provide the highest quality and safety of care to women with mental health and substance abuse issues.
Brookhaven Retreat focuses intensely on program development in relation to client needs. Such an approach ensures that the facility continues to offer the very best treatment to women with depression, anxiety, mood disorders and addiction issues. A focused approach on policy and administration enhances program outcomes for the women in its residential treatment program.
About Brookhaven Retreat
Brookhaven Retreat is a women's treatment center nestled on a naturally beautiful 48-acre site secluded in the foothills of the Great Smoky Mountains. It has helped hundreds of women across the United States overcome depression, trauma, anxiety, substance use and a range of other behavioral health challenges. Brookhaven's Founder, Jacqueline Dawes, has predicated its gender-specific treatment on "healing emotional breakage" for women. In this way, she has established a sanctuary and a place where women can feel safe, secure and cared for by a staff of highly trained professionals.