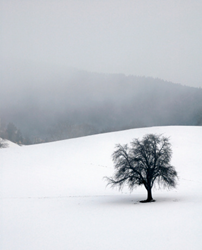 Knoxville, TN (PRWEB) December 18, 2014
Seasonal affective disorder is more than just the winter blues, it is a type of depression that occurs at the same time each year, usually during the late fall and winter months. For women with existing mental health issues, it can be overwhelming and interfere with an already fragile balance.
For most sufferers, seasonal affective disorder typically occurs as the weather gets colder and the days get shorter. Symptoms include depression, hopelessness, anxiety, irritability, weight grain, constant fatigue and increased hunger. Because SAD occurs more frequently among women than men, it is a significant topic in Brookhaven Retreat's residential program as we welcome the first day of winter on December 21.
Unlike typical depression, seasonal affective disorder occurs during the same season each year and resolves itself as the seasons change. Seasonal affective disorder is more common during the short days of the winter months as it may be caused by a lack of sunlight, which interferes with the body's production of serotonin, a chemical that affects mood.
Both medication management and cognitive behavior therapy help women manage the symptoms of seasonal affective disorder. CBT is very effective in helping women change the negative thought processes and behaviors that influence mood. When women learn to shift thoughts positively and stick to a routine that supports physical and mental health, seasonal affective depression improves.
Many women with seasonal affective disorder suffer from major depressive disorder or bipolar disorder as well. Identifying seasonal patterns to these disorders allows for a more comprehensive treatment plan. When women understand the nature of their emotional issues, they are able to create a successful plan for continued wellness.
Becoming aware of emotional influencers helps women avoid potentially life-threatening mental health issues. As we transition in to the Winter season, Brookhaven Retreat urges women to be vigilant of their emotional health and to participate in social activities, physical exercise and outdoor hobbies that encourage joy and wellness.
About Brookhaven Retreat
Brookhaven Retreat is a women's treatment center nestled on a naturally beautiful 48-acre site secluded in the foothills of the Great Smoky Mountains. It has helped hundreds of women across the United States overcome depression, trauma, anxiety, substance use and a range of other behavioral health challenges. Brookhaven's Founder, Jacqueline Dawes, has predicated its gender-specific treatment on "healing emotional breakage" for women. In this way, she has established a sanctuary and a place where women can feel safe, secure and cared for by a staff of highly trained professionals.