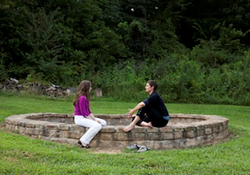 Knoxville, TN (PRWEB) April 01, 2014
Each year, the National Sexual Violence Resource Center sponsors Sexual Assault Awareness Month in April. This campaign aims to raise awareness and prevention of sexual assault, and motivate activism for change. Brookhaven Retreat observes Sexual Assault Awareness Month and actively assists women healing from mental health issues associated with trauma experienced by sexual assault.
Women who experience sexual assault will never be the same; the impact is life long. According to research, survivors of rape are thirteen times more likely to attempt suicide and 80 percent of survivors suffer psychological problems. Over half of all women seeking mental health services report having been sexually assaulted.
Mental health issues such as borderline personality disorder can be the result of sexual assault trauma. BPD symptoms consist of significant mood swings, anger, impulsive and risky behavior and self harm. Over 40 percent of those suffering from BPD reported being sexually abused before adulthood.
According to the Rape, Abuse, and Incest National Network, women who have experienced sexual assault are ten times more likely to use major drugs. Substance abuse is used as a way to cope with post-traumatic stress disorder symptoms. Drugs and alcohol may provide temporary relief, but is an unhealthy and eventually destructive way of coping.
Depression is exceedingly common and even normal after experiencing trauma. However, when left unaddressed, it has the power to negatively affect daily life. Women may withdraw socially, lose sleep, feel worthless or contemplate suicide.
Brookhaven Retreat recognizes that sexual assault can result in emotional breakage, hindering women from developing effective coping skills. During inpatient treatment and recovery, women meet with a primary therapist to explore past events and stressors. Group therapy offers a sense of support from the community and works on personal and interpersonal skills. Dialectical Behavioral Therapy skills focus on increasing emotional regulation, mindfulness, interpersonal effectiveness and distress tolerance. This type of therapy has been proven to be successful in treating symptoms of Borderline Personality Disorder, as well as depression and anxiety.
An exclusive, women-only treatment center fosters a safe environment for survivors of sexual assault to understand how trauma impacts life and explore those events and their accompanying feelings. Brookhaven Retreat provides women with the tools needed to establish healthy coping skills previously obstructed by emotional breakage.
About Brookhaven Retreat
Brookhaven Retreat is a women's treatment center nestled on a naturally beautiful 48-acre site secluded in the foothills of the Great Smoky Mountains. It has helped hundreds of women across the United States overcome depression, trauma, anxiety, substance use and a range of other behavioral health challenges. Brookhaven's Founder, Jacqueline Dawes, has predicated its gender-specific treatment on "healing emotional breakage" for women. In this way, she has established a sanctuary and a place where women can feel safe, secure and cared for by a staff of highly trained professionals.