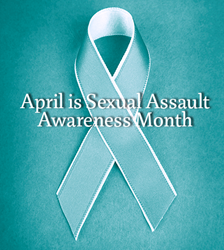 Knoxville, TN (PRWEB) April 29, 2015
Brookhaven Retreat, a comprehensive treatment facility exclusively for women with emotional and mental health challenges and/or substance abuse issues, recognizes April as Sexual Assault Awareness Month. April has been chosen to raise awareness about sexual assault and to educate the public on preventing and treating sexual assault.
With spring flowers blooming, the beauty of nature returns, April arrives with mild temperatures and stormy weather reminding us of the unrelenting cycle of life where beauty and good weather sometimes give way to storms and chaos. No one chooses to have thunderstorm or tornado damage to their home just as no one chooses to be the victim of an assault. The only choice you have is to survey the damage and seek help in rebuilding.
Sexual assaults impact one in every five women at some point in their lives with 91% of all sexual assault victims being female. Of those victims, 81% report significant short term or long-term impacts such as post-traumatic stress disorder (PTSD). Chronic health conditions have been associated with the coping skills adopted by victims of sexual violence including depression, chronic pain, difficulty sleeping, and poor physical and mental health with many victims turning to self-destructive behaviors such as smoking or drinking. Without appropriate treatment, through no fault of her own, the victim can enter into a self-destructive downward spiral leading to chemical dependency, alcohol abuse, prescription addiction, depression, and even self-harm.
In recognition of sexual assault awareness month, Brookhaven Retreat focused on processing through traumatic events that, for some clients, included sexual assault histories. Individual treatment sessions were led on site by highly skilled primary therapists and incorporated effective PTSD treatments such as Dialectical Behavior Therapy (DBT), Eye Movement Desensitization and Reprocessing (EMDR), and Cognitive Behavior Therapy (CBT). In April, group therapy and experiential therapy promoted healing through action, trust, and support.
Sexual violence is endemic in the United States. It occurs across all demographics and touches lives indiscriminately. Sexual violence is a public health, human rights, and social justice issue. It is not the victim's fault. It is never the victim's fault. If you have been a victim of an act of sexual violence, seek comprehensive help immediately. Do not let a senseless act of violence destroy your life. There is help available. In the United States, the National Sexual Assault Hotline can be reached at 1-800-656-HOPE (1-800-656-4673) and is a partnership of over 1,100 rape crisis centers. In addition, if you have been the victim of a sexual assault, you can take a self-assessment for PTSD on the Brookhaven Retreat website under the "Making a Change" tab. Brookhaven Retreat is a private residential treatment center for women dedicated to treating emotional and mental health and/or substance abuse issues.
About Brookhaven Retreat
Brookhaven Retreat is a women's treatment center nestled on a naturally beautiful 48-acre site secluded in the foothills of the Great Smoky Mountains. It has helped hundreds of women across the United States overcome depression, trauma, anxiety, substance use and a range of other behavioral health challenges. Brookhaven's Founder, Jacqueline Dawes, has predicated its gender-specific treatment on "healing emotional breakage" for women. In this way, she has established a sanctuary and a place where women can feel safe, secure and cared for by a staff of highly trained professionals.