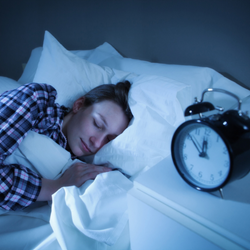 Knoxville, TN (PRWEB) March 16, 2016
Brookhaven Retreat ® LLC, a unique residential treatment facility exclusively for women with mental health and/or substance abuse issues, raised awareness of the importance of sleep to clients during National Sleep Awareness Week, March 6 to 12.
Clients of The Lily Program ®, a 90-day program for women offered exclusively at Brookhaven Retreat, must adhere to a regulated sleep schedule during treatment to support their recovery process. The lack of proper sleep creates difficulty completing the program. The goal of the program, no matter what stage a client is in or the nature of their issue, is to create a life worth living. To successfully accomplish this goal requires willingness, strength, focus and determination. Interruptions in sleep or the lack of healthy sleep can disrupt any or all of these required facets.
According to the Tennessee Journalist, University of Tennessee professor Ralph Lydic spoke at the Quest science forum on Feb. 19 about the body's need for sleep and the results of neglected sleep. Lydic, Past President of the North American Sleep Research Society, said, "Sleep is a major risk factor for disease and it's something we all devalue. It's something we do to get it over with."
Lydic explained the two major sources of disease risk: Those genes inherited from our parents and modifiable risk factors that stem from lifestyle choices and behaviors. For instance, it is a lifestyle choice to make proper sleep a priority.
Lydic says sleep has an under-recognized significance. The proof is in the approximate 70 million Americans who suffer from chronic sleep problems, of which there are 90 distinct disorders. These various sleep deficiencies can cause an array of health problems like anxiety, depression, obesity, diabetes, and even strokes.
The most common sleep disorder is insomnia, which affects about 1 in 3 people, according to the Sleep Health Foundation. The second most common disorder is sleep apnea, a treatable issue that disrupts proper breathing during sleep. Using alcohol and other drugs to self-treat insomnia can lead to addiction.
The addiction to technology is also contributing to sleep neglect. The use of electronic devices too close to bedtime or during what should be the hours of sleep, says Harvard Health Publications, can be detrimental to proper rest. The website reports, "the light emitted from the screens of laptops, smartphones, or tablets has the ability to confuse your circadian rhythm, which may prevent you from falling asleep or from entering deep sleep."
Women in mental health treatment at Brookhaven Retreat have the benefit of therapy and regulated sleep cycles, meaning going to bed and waking up at the same times each day, and limited use of technology.
Brookhaven Retreat's founder, Jacqueline Dawes says, "Our program is designed to help clients focus on their recovery. The structure of the schedule for each day is geared to nurturing them and focusing on health and healing the body, mind and spirit. There is time for eating well, sleeping well, physical activity, experiential therapy, self-expression and creativity, among other things, to make for a very well-rounded experience for working toward the goal of creating a life worth living."
About Brookhaven Retreat
Brookhaven Retreat is a women's treatment center nestled on a naturally beautiful 48-acre site secluded in the foothills of the Great Smoky Mountains. It has helped hundreds of women across the United States overcome depression, trauma, anxiety, substance use and a range of other behavioral health challenges. Brookhaven's Founder, Jacqueline Dawes, has predicated its gender-specific treatment on "healing emotional breakage" for women. In this way, she has established a sanctuary and a place where women can feel safe, secure and cared for by a staff of highly trained professionals.