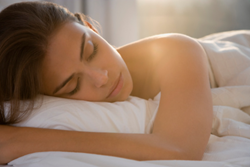 Knoxville, TN (PRWEB) March 04, 2014
March 2-9 is National Sleep Awareness Week. This campaign, hosted by the National Sleep Foundation, is a week-long event dedicated to recognizing the health benefits of sleep. Brookhaven Retreat works with women to promote healthy sleep hygiene during their journey to recovery.
According to the National Sleep Foundation, adults need 7-9 hours of rest a night to be at their best, but not many Americans actually achieve that number. There are various sleep disorders listed by the NSF, with insomnia being the most common. Sleep deprivation is not only a symptom of mental illness; it can actually trigger the development of mental illnesses. Not getting enough sleep is linked to an increase likelihood of mental health issues such as depression, anxiety and substance abuse.
In 2009, Harvard Health Publication stated that sleep disorders often appear before mental illness: 27 percent of anxiety disorders and 69 percent of depression instances are preceded by sleep disorders. The publication also shared that during manic episodes, virtually all bipolar patients experience insomnia.
Lack of sleep can result in irritability and lessen a woman's capability to cope with stress in healthy ways. Sleep deprivation can be detrimental to a woman's progress while recovering from mental health issues. Women who are depressed are less likely to respond positively to treatment if they continue experiencing insomnia.
Brookhaven Retreat emphasizes healthy lifestyle changes to facilitate sleep. Women learn the importance of establishing a sleep routine including, reading, bathing and journaling before bed, to unwind the body and mind. Addressing sleep disturbances during treatment is key to achieving emotional regulation. Sufficient sleep is vital to the continued recovery of women with anxiety and bi-polar disorders.
About Brookhaven Retreat
Brookhaven Retreat is a women's treatment center nestled on a naturally beautiful 48-acre site secluded in the foothills of the Great Smoky Mountains. It has helped hundreds of women across the United States overcome depression, trauma, anxiety, substance use and a range of other behavioral health challenges. Brookhaven's Founder, Jacqueline Dawes, has predicated its gender-specific treatment on "healing emotional breakage" for women. In this way, she has established a sanctuary and a place where women can feel safe, secure and cared for by a staff of highly trained professionals.