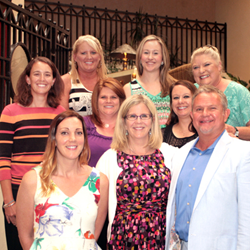 Knoxville, TN (PRWEB) June 10, 2015
Dr. Jennifer Payne, co-founder and Director of the Johns Hopkins Women's Mood Disorder Center, visited Brookhaven Retreat® LLC, a unique residential treatment facility exclusively for women with emotional and mental health challenges, and/or substance abuse issues, to provide clinical training on sleep disorders, behaviors, medications and hygiene on May 28, 2015.
Sleep is critical for a person's health and wellbeing. According to the National Sleep Foundation's Annual Sleep in America Poll, 60 percent of the population suffers from lack of sleep and at least 40 million Americans suffer from sleep disorders. Many sleep issues go undiagnosed and untreated leading to more than 40 percent of the adult population to experience daytime sleepiness severe enough to interfere with their daily activities several times per month (National Sleep Foundation). Lack of sleep causes symptoms such as irritability, moodiness, disinhibition, apathy, impaired memory, loss of creativity, and flattened emotional responses. Brookhaven Retreat recognizes the benefit of having a good night's sleep on both the body and the mind as sleep and mood are mutually supporting. It is not uncommon for women who do not get enough sleep to be depressed or for people who are depressed to not sleep well.
Sleep disorder topics covered by Dr. Payne's training included restless leg syndrome and insomnia. Restless legs syndrome creates an irresistible urge to move the legs to relieve uncomfortable sensations. These sensations are described as "itchiness", "pins and needles", or "creepy crawly" feelings in the legs and get progressively worse at rest. Insomnia is sleep disorder that is characterized by difficulty falling and/or staying asleep. People suffering with insomnia report difficulty falling asleep, waking up often during the night and struggling to fall back asleep, waking up too early in the morning, and feeling tired upon waking. Research completed by Andrew Krystal, MD (2006) indicates a definitive link between sleep disorders such as insomnia and restless leg syndrome and an increased risk for developing mental illness.
In addition to discussing each disorder in depth, Dr. Payne provided sleep hygiene tips designed to improve both quality and quantity of sleep as neither attribute can compensate for the other. In an ever-connected world, "the number one thing that suffers is our sleep," asserts Kark Doghramji, MD. "Sleep is critically important and we undervalue it." Getting a good night's sleep makes a person more alert, awake, alive, and enthusiastic all of which are necessary during a successful therapy program as people with mood disorders are significantly more likely than others to have trouble sleeping.
Brookhaven Retreat founder Jacqueline Dawes attended the May 28th training along with medical and clinical personnel.
Krystal, A. D. (2006). Sleep and Psychiatric Disorders: Future directions. Psychiatric Clinics of North America, 29 (4), 115-30.
About Brookhaven Retreat
Brookhaven Retreat is a women's treatment center nestled on a naturally beautiful 48-acre site secluded in the foothills of the Great Smoky Mountains. It has helped hundreds of women across the United States overcome depression, trauma, anxiety, substance use and a range of other behavioral health challenges. Brookhaven's Founder, Jacqueline Dawes, has predicated its gender-specific treatment on "healing emotional breakage" for women. In this way, she has established a sanctuary and a place where women can feel safe, secure and cared for by a staff of highly trained professionals.