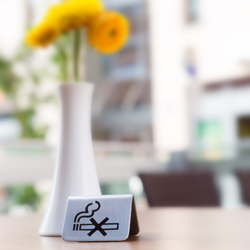 Knoxville, TN (PRWEB) November 18, 2015
Brookhaven Retreat ® LLC is dedicated to providing a healthy, comfortable, and productive environment for its employees and clients, and therefore, observes and supports the Great American Smoke-out on November 19.
It was reported last year by the American Cancer Society that lung cancer is the leading cause of cancer death in the United States for men and women, as well as the most preventable form of cancer death in the world. According to the U.S. Surgeon General Report of 2014, "Women smokers are 25.7 times more likely than women who never smoked to develop lung cancer. For men smokers, it's 25 times the risk of men who never smoked."
According to the National Institute on Alcohol Abuse and Alcoholism, alcohol consumption and tobacco use are closely linked behaviors. In an article written by David J. Drobes, Ph.D., an associate professor at the Moffitt Cancer Center & Research Institute, University of South Florida, Tampa, FL, "Thus, not only are people who drink alcohol more likely to smoke (and vice versa) but also people who drink larger amounts of alcohol tend to smoke more cigarettes. Furthermore, patients diagnosed with dependence on one of the drugs also are commonly diagnosed with dependence on the other drug."
Employees are never permitted to smoke during work hours, anywhere on the Brookhaven Retreat grounds. During the Great American Smoke-out, clients and employees alike will be encouraged to stop smoking, even on the outdoor smoking porch.
From the Brookhaven Retreat Handbook the following information comes, and was also published in the November edition of the in-house newsletter, Lotus Whispers:
"Smoking, including the use of an e-cigarette, by employees shall not be permitted in any enclosed company facility or in any outdoor company worksite. This includes, without limitation, common work areas, conference and meeting rooms, private offices, hallways, breezeways, breakrooms, stairs, restrooms, smoking porches, decks, parking lots, vehicles, and any other area, whether indoors or outdoors, located on Brookhaven Retreat property. Smoking is prohibited at all times while an employee is 'on the clock' and working for Brookhaven Retreat, whether on-site or off-site."
As part of The Lily Program® clients can receive additional support and information about safe, effective and appropriate treatment options to assist with quitting tobacco if they so desire.
Jacqueline Dawes, founder of Brookhaven Retreat, says, "Part of our mission here is to address addiction, no matter what kind, to help a client regain control of her life and tailor-make a healthy, addiction-free life worth living so she may enjoy herself and live up to her potential."
About Brookhaven Retreat
Brookhaven Retreat is a women's treatment center nestled on a naturally beautiful 48-acre site secluded in the foothills of the Great Smoky Mountains. It has helped hundreds of women across the United States overcome depression, trauma, anxiety, substance use and a range of other behavioral health challenges. Brookhaven's Founder, Jacqueline Dawes, has predicated its gender-specific treatment on "healing emotional breakage" for women. In this way, she has established a sanctuary and a place where women can feel safe, secure and cared for by a staff of highly trained professionals.