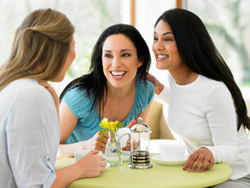 Knoxville, TN (PRWEB) July 16, 2014
July is Social Wellness Month. Social wellness is a crucial part of positive physical and mental health, and throughout the month of July, Brookhaven Retreat encourages women to work on establishing social wellness.
When a woman is struggling with depression or anxiety disorders, she may find it difficult to maintain meaningful relationships with friends and family. She often becomes isolated and struggles with social anxiety and poor self-esteem, preventing her from interacting with others and leading to further seclusion.
Poor social wellness is not only a consequence of mental illness, but it also plays a role in the development of reduced physical and mental health. A 2001 Duke University study found that poor social wellness is linked to chronic illness, lowers the immune system and serves as a major factor in depression.
Women who are active in community events, social gatherings and various groups often feel a sense of belonging that can positively effect mental wellness. Connecting with others adds value to a woman's life and builds self-esteem and confidence.
The women in Brookhaven Retreat's exclusive 90-day treatment program have the opportunity to develop social wellness as part of their healing journey. Therapies such as Dialectical Behavioral Therapy, group therapy and family therapy give women the chance to learn, practice and refine their social communication skills. They are also taught the importance of nurturing relationships with family and friends, and how to build a strong support system.
Brookhaven Retreat focuses on holistic wellness, including emotional, social, physical and mental health. During the month of July, Brookhaven Retreat will continue to serve women by addressing all of the essential areas of a woman's life so that she is better able to manage her illness after treatment and establish a life worth living.
About Brookhaven Retreat
Brookhaven Retreat is a women's treatment center nestled on a naturally beautiful 48-acre site secluded in the foothills of the Great Smoky Mountains. It has helped hundreds of women across the United States overcome depression, trauma, anxiety, substance use and a range of other behavioral health challenges. Brookhaven's Founder, Jacqueline Dawes, has predicated its gender-specific treatment on "healing emotional breakage" for women. In this way, she has established a sanctuary and a place where women can feel safe, secure and cared for by a staff of highly trained professionals.