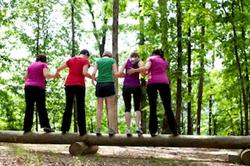 Knoxville, TN (PRWEB) March 18, 2014
The long, frigid winter officially comes to an end March 20, 2014. Vernal Equinox, better known as the first day of spring, takes place Thursday. Astronomically speaking, spring happens when the sun passes over the equator going north. At this moment, day and night are of equal duration. Brookhaven Retreat welcomes the upcoming spring by take advantage of the therapeutic abilities the outdoors has for women with mental health issues.
Springtime is often synonymous with rebirth and awakening. The flowers bloom, birds return and seasonal depression symptoms reduce. Nature can be very calming, and combining it with assisted therapy can improve women's mental, physical and emotional health. Through equine therapy, ropes courses and mindful walking women are able to learn self-awareness, trust and achievement.
Equine-assisted therapy is beneficial for women suffering from depression, trauma, anxiety disorders and substance abuse issues because it offers insight into emotions and emotional reactions. Often times what women are unable to express with words, they can reveal through their hands. Naturally empathetic, horses have the ability to recognize what humans are feeling. This influence is what makes equine-assisted therapy so valuable in recovery from mental health issues.
Communication, trust and self-empowerment are all critical skills to learn during treatment. Ropes course activities give women the opportunity to work on interpersonal relationships and problem solving skills. This activity allows the chance to view group dynamics and how each individual acts within. By exposing each woman's characteristics such as: who is a leader or a follower, who is able to ask for help, or who completes the task, or who gives up, women are able to reflect upon successes and failures.
Mindful walking is more than just exercise for the body, it focuses on the mind. When combining mindfulness, a skill learned in treatment, with walking, it becomes therapeutic. While walking on nature trails, women are guided on how to be present in the moment, stimulate all five senses and fully engage thoughts and feelings.
With the first day of official spring approaching, Brookhaven Retreat encourages outdoor therapies. By merging inter and intrapersonal skills taught in therapy with outdoor activities, women are able to achieve enhanced overall mental, physical and spiritual well being.
About Brookhaven Retreat
Brookhaven Retreat is a women's treatment center nestled on a naturally beautiful 48-acre site secluded in the foothills of the Great Smoky Mountains. It has helped hundreds of women across the United States overcome depression, trauma, anxiety, substance use and a range of other behavioral health challenges. Brookhaven's Founder, Jacqueline Dawes, has predicated its gender-specific treatment on "healing emotional breakage" for women. In this way, she has established a sanctuary and a place where women can feel safe, secure and cared for by a staff of highly trained professionals.