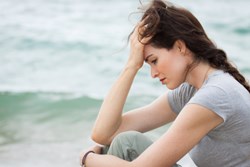 Knoxville, TN (PRWEB) September 05, 2013
September 8-14 is Suicide Prevention Week. Hosted by the American Association of Suicidology, Suicide Prevention Week increases awareness of the signs and dangers of suicide as a preventable public health issue. Brookhaven Retreat recognizes the dangers of suicidal thinking and dedicates itself to helping women recover from potentially life-threatening thought patterns.
The CDC reports that suicide is the tenth leading cause of death in the U.S. There are more than 38,000 deaths from suicide in the U.S. annually, more than from motor vehicle accidents. The National Institute of Mental Health reports that there are 11 suicide attempts per every death from suicide.
More than 90 percent of people who die by suicide suffer from depression, substance abuse or another mental health disorder. Prior suicide attempts, a family history of mental disorders or exposure to the suicidal behaviors of others can also increase a woman's chances of suicidal behavior.
Suicidal behavior is complex, and effective treatment options must target the negative thinking patterns that underlie this behavior. Many women who exhibit self-harming behavior experience self-loathing that may eventually develop into intentional attempts at suicide. Treating the root of mental health and substance abuse disorders is critical to recovering from self-harming behavior.
Cognitive behavioral therapy has been shown to significantly reduce the rate of repeated suicide attempts, the NIMH reports. This approach treats anxiety and depression by targeting negative thinking patterns and encouraging women to consider alternative actions that ultimately change both mood and behavior.
Brookhaven Retreat also offers dialectical behavior therapy, which has been shown to be effective at treating borderline personality disorder, self-harm and other mental health conditions. This therapy utilizes mindfulness, distress tolerance, emotion regulation and interpersonal effectiveness skills to teach women to regulate and manage strong emotions.
Brookhaven Retreat believes wellness is possible, but it is critical for women contemplating any form of self-harm to seek help immediately. For many, appropriate treatment is a life or death situation. In September, Brookhaven Retreat observes the tragic suicide statistics in the U.S. and commits itself to changing these numbers one woman at a time.
About Brookhaven Retreat
Brookhaven Retreat is a women's treatment center nestled on a naturally beautiful 48-acre site secluded in the foothills of the Great Smoky Mountains. It has helped hundreds of women across the United States overcome depression, trauma, anxiety, substance use and a range of other behavioral health challenges. Brookhaven's Founder, Jacqueline Dawes, has predicated its gender-specific treatment on "healing emotional breakage" for women. In this way, she has established a sanctuary and a place where women can feel safe, secure and cared for by a staff of highly trained professionals.