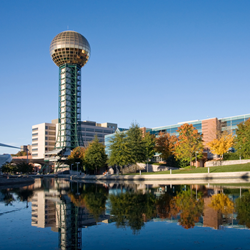 Knoxville, TN (PRWEB) June 08, 2016
Brookhaven Retreat®, LLC, a unique residential treatment facility exclusively for women with mental health and/or substance abuse issues, visited the Knoxville Sunsphere and A.C. Moore on June 4th, 2016 as a therapeutic outing as part The Lily Program®, a 90-day treatment for women offered exclusively at Brookhaven Retreat.
The Knoxville Sunsphere was a themed structure that was created for the 1982 World's Fair and is a major attraction in the East Tennessee area. The Sunsphere represents the sun as a source of energy, which was also the theme of the World's Fair. The structure has a total height of 266 feet and the sphere is 74 feet in diameter.
As part of The Lily Program®, a 90-day voluntary residential program offered exclusively at Brookhaven Retreat, regular recreational outings are considered experiential therapy. Women who enter the program for depression, trauma, anxiety, personality disorders, and substance dependence, to name a few diagnoses, have the opportunity to gain inspiration during therapeutic outings, and exercise the skills of mindfulness and other learned coping mechanisms. Therapeutic outings provide clients with a way to use the skills they have learned during their stay at Brookhaven Retreat in a safe and encouraging surroundings.
The ultimate goal of Brookhaven Retreat is to offer a supportive and nurturing healing environment. The comprehensive treatment program includes a variety of clinical program modalities, beginning with the creation of a unique individualized treatment plan tailored specifically for each client.
As women progress through the program they move from an initial focus on gaining insight and working on past issues to a more present-centered, "here and now" focus.
Clients also purchased art supplies at A.C. Moore to use during art therapy and individualized projects, which is also standard in The Lily Program.
About Brookhaven Retreat
Brookhaven Retreat is a women's treatment center nestled on a naturally beautiful 48-acre site secluded in the foothills of the Great Smoky Mountains. It has helped hundreds of women across the United States overcome depression, trauma, anxiety, substance use and a range of other behavioral health challenges. Brookhaven's Founder, Jacqueline Dawes, has predicated its gender-specific treatment on "healing emotional breakage" for women. In this way, she has established a sanctuary and a place where women can feel safe, secure and cared for by a staff of highly trained professionals.