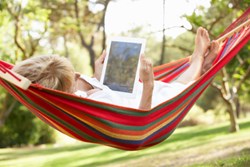 Knoxville, TN (PRWEB) September 26, 2013
Brookhaven Retreat's new Saturday program will integrate technology training into women's mental health and substance abuse recovery. In September, Brookhaven Retreat finalizes the syllabus for the upcoming 12-week program.
Technology and the Internet are constantly developing. Many women suffering from depression, trauma or emotional breakage have experienced prolonged periods of isolation and emotional detachment, and can find themselves behind on technology.
For many women, illness has prevented them from taking an interest in or learning new technologies. Others get sucked in to addictive online behaviors such as shopping, chat rooms or gambling. These are coping tools for feelings of depression and emptiness that are destructive to women's mental health. Brookhaven Retreat's program builds women up so that they turn to positive coping skills and learn to use technology in healthy ways.
Technology can add to life and support mental health. Brookhaven Retreat's 12-week cycling technology training will focus on utilizing iPad tools, the alumnae website and other communication technologies to increase quality of life and safeguard recovery.
Technology can strengthen support system availability. In the 12-week class, women will learn to use video chat tools with family. At six lessons, women will be able to set up their own iPad. Brookhaven Retreat chose this tool because it offers women a host of features that support wellness. With it, women may keep a protected daily journal, start playlists of contemplation or sleep hygiene music, listen to audio books, download therapy skill books, post on the alumnae website and have easy access to many other recovery aides. At women's discharge ceremony, Brookhaven Retreat will be able to use the iPads to record farewell messages from other women.
This 12-week technology training program will ultimately incorporate something many women are unaware of or adverse to as a tool to support wellness and increase quality of life. The new program is set to begin on November 1.
About Brookhaven Retreat
Brookhaven Retreat is a women's treatment center nestled on a naturally beautiful 48-acre site secluded in the foothills of the Great Smoky Mountains. It has helped hundreds of women across the United States overcome depression, trauma, anxiety, substance use and a range of other behavioral health challenges. Brookhaven's Founder, Jacqueline Dawes, has predicated its gender-specific treatment on "healing emotional breakage" for women. In this way, she has established a sanctuary and a place where women can feel safe, secure and cared for by a staff of highly trained professionals.