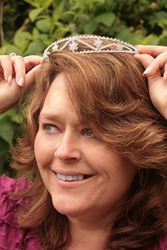 Knoxville, TN (PRWEB) June 01, 2015
Brookhaven Retreat® LLC, a unique residential treatment facility exclusively for women with emotional and mental health challenges, and/or substance abuse issues encouraged women to be queen of their world on International Tiara Day.
Tiara Day is recognized on May 24th to coincide with Queen Victoria's birthday. It was originally created due to the popularity of wearing tiaras at a time when so few events allowed the opportunity for them to be worn. In the past, tiaras were reserved for formal occasions. In modern times, while there are no hard, fast rules for wearing tiaras, formal occasions, where they would be appropriate, have declined. Tiara Day, as the name implies, allows everyone the opportunity to feel like royalty no matter who they are. It has evolved as a way to celebrate women being empowered, intelligent leaders in control of their own lives through wearing a tiara in the physical or metaphorical sense.
Brookhaven Retreat celebrates the empowerment of women in all aspects of programming. For Tiara Day, Brookhaven Retreat clients were encouraged to design a metaphorical tiara to symbolize their life journey. They were asked to imagine how their personal tiara would look and what the materials would represent. This group exercise provided an opportunity for the ladies to develop the tools necessary to empower themselves to reach their individual goals while receiving altruistic feedback from the group. "Group therapy is the heartbeat of any good therapy center," says Jacqueline Dawes, founder of Brookhaven Retreat. "The support, camaraderie, kinship and togetherness of group therapy help you break through very difficult emotional issues." Members of the group were supportive of the ideas presented and often provided additional insight into personal strengths overlooked in the initial design helping to empower all members of the group to see themselves as queen of their world.
About Brookhaven Retreat
Brookhaven Retreat is a women's treatment center nestled on a naturally beautiful 48-acre site secluded in the foothills of the Great Smoky Mountains. It has helped hundreds of women across the United States overcome depression, trauma, anxiety, substance use and a range of other behavioral health challenges. Brookhaven's Founder, Jacqueline Dawes, has predicated its gender-specific treatment on "healing emotional breakage" for women. In this way, she has established a sanctuary and a place where women can feel safe, secure and cared for by a staff of highly trained professionals.