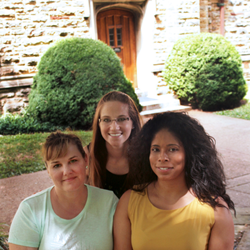 Knoxville, TN (PRWEB) July 08, 2015
The primary therapy team from Brookhaven Retreat® LLC, a unique residential treatment facility exclusively for women with emotional and mental health challenges, and/or substance abuse issues, attended two-day trauma competency conference in Nashville, Tennessee on June 25th and 26th. The seminar highlighted trauma treatments and interventions for women suffering from the emotional effects of trauma, PTSD, and grief, and loss.
Mike Dubi, EdD., LMHC, one of the premier traumatologists in the country, introduced the conference participants to the most current research, treatment interventions, and important literature in the field of traumatic stress. With more than 40 years experience as a clinician specializing in traumatic stress, Dubi also taught attendees how to identify and apply the 'active ingredients' in healing traumatic stress, understand the basic elements of traumatic stress diagnosis, and become aware of the ethical parameters in the treatment of traumatic stress.
Among the techniques Dubi discussed was Eye Movement Desensitization and Reprocessing (EMDR) therapy. EMDR is a form of therapy founded by Francine Shapiro that is most effective in treating clients suffering from the lasting effects of trauma. EMDR uses eye movement and tones or taps to stimulate both sides of the brain simultaneously to effectively reprocess traumatic events and reduce their emotional influence. In a protected environment, EMDR enables women to process the trauma during individual therapy sessions. As a result, the traumatic event becomes less influential and less debilitating in daily life. "For women suffering the lingering effects of trauma, life may feel as if there is no hope," says Jacqueline Dawes, founder of Brookhaven Retreat. "These thoughts lead to an increased risk of self-injury or even suicide; therefore seeking the proper treatment for these painful memories is critical. EMDR removes the power from the memory, allowing women to once again assume control of their emotions and, ultimately, their life." EMDR is one of many therapeutic offerings available to Brookhaven Retreat clients.
The first day of the two-day conference focused on the 10 core competencies of trauma, PTSD, and grief, and loss. Treatments and interventions were covered on day two including cognitive behavioral techniques (CBT), EMDR, thought field therapy (TFT), emotional freedom techniques (EFT), and traumatic incident reduction (TIR).
Brookhaven Retreat is committed to offering ongoing training and educational opportunities in order to provide the highest quality of care and treatment to women with mental health and substance abuse issues.
About Brookhaven Retreat
Brookhaven Retreat is a women's treatment center nestled on a naturally beautiful 48-acre site secluded in the foothills of the Great Smoky Mountains. It has helped hundreds of women across the United States overcome depression, trauma, anxiety, substance use and a range of other behavioral health challenges. Brookhaven's Founder, Jacqueline Dawes, has predicated its gender-specific treatment on "healing emotional breakage" for women. In this way, she has established a sanctuary and a place where women can feel safe, secure and cared for by a staff of highly trained professionals.