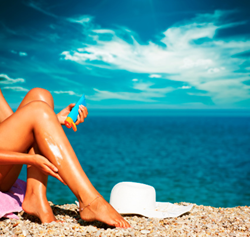 Knoxville, TN (PRWEB) July 03, 2014
Each year, the American Academy of Ophthalmology sponsors UV Safety Month in July. This campaign aims to bring awareness to the health risks of ultraviolet exposure. Brookhaven Retreat encourages women to practice sun safety and the importance of focusing on mental, emotional and physical wellness.
The skin's primary job is to protect the body from disease and infection; therefore, it is critical that it be cared for. The CDC reports that skin cancer is the most common type of cancer in the United States, with UV rays as the main cause. However, establishing safe sun practices while enjoying outdoor activities can prevent skin cancer.
There are many mental health benefits to sunny days filled with outdoor activities. Women who spend time in nature often experience a decrease in depression and anxiety, along with greater energy and happiness. July is filled with outdoor activities that promote mental, emotional, and physical health including picnics, swimming and gardening, making UV safety critical.
Brookhaven Retreat urges women to avoid excessive sun exposure between 10 a.m. and 4 p.m., as this is when UV exposure is at its peak. The FDA promotes the repeated use of a broad-spectrum sunscreen with an SPF of 15 during these hours. These precautions should be utilized even during winter and on overcast days, along with long sleeves, wide-brim hats and sunglasses.
Safe sun practices and avoidance of UV rays play a crucial part in preventing a skin cancer diagnosis, which can shock emotional wellness. According to the National Cancer Institute, roughly 25 percent of cancer patients experience depression after diagnosis.
Medical care is a large part of mental health recovery. Often as a result of mental illness, medical needs, skin safety and doctor appointments are neglected. Women at Brookhaven Retreat are encouraged to address any medical needs as part of their long-term recovery and discharge plan.
Practicing UV safety is one way for women to care for themselves and enjoy positive summer activities that influence better mental health. This July, Brookhaven Retreat encourages all women in its program to practice UV safety while enjoying friends, family and the great outdoors.
About Brookhaven Retreat
Brookhaven Retreat is a women's treatment center nestled on a naturally beautiful 48-acre site secluded in the foothills of the Great Smoky Mountains. It has helped hundreds of women across the United States overcome depression, trauma, anxiety, substance use and a range of other behavioral health challenges. Brookhaven's Founder, Jacqueline Dawes, has predicated its gender-specific treatment on "healing emotional breakage" for women. In this way, she has established a sanctuary and a place where women can feel safe, secure and cared for by a staff of highly trained professionals.