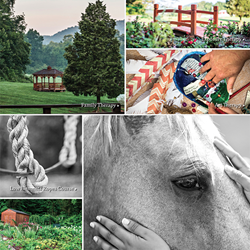 Knoxville, TN (PRWEB) October 28, 2015
Brookhaven Retreat®, LLC is thrilled to announce the launch of the beautifully redesigned website, http://www.BrookhavenRetreat.com in October.
The new website design with in-depth content is a visual journey of Brookhaven Retreat. With a colorful and clean layout, one can see captivating photos including aerial views of the Brookhaven Retreat property nestled on a sprawling 48-acre, secluded site in the foothills of the Great Smoky Mountains.
Brookhaven Retreat's creative team has worked closely with founder Jacqueline Dawes over the course of a few months to develop the site.
Creative Director Mitzi Navarra says, "I've had the privilege of working for Brookhaven Retreat for several years and have seen the life-changing impact it has had on so many women. I wanted to ultimately enhance an online viewer's experience by capturing the serenity, the quality of care, the passion and life-long commitment Brookhaven Retreat has for their clients."
Website programmer, Paul Mozingo adds, "We are very excited about the launch of the new site. Not only does it feature incredible new photography and a modern web design, it also represents a big shift forward in technology, particularly for optimized mobile access. Clients have related the importance of the web site in choosing their treatment center and preparing for their stay, so we want the site to be the best possible vehicle for conveying the Brookhaven Retreat message."
The website offers enhanced features including an admissions concierge, easy-access photo galleries, additional secure self-evaluation tests and a closer look at and more information about Knoxville, Tennessee.
Each page shares success stories of clients and how The Lily Program® has truly helped create lives worth living.
Potential clients and their families can learn the story about Brookhaven Retreat and gain an inside perspective into daily activities, The Lily Program® at Brookhaven Retreat, what to expect and more.
Founder Jacqueline Dawes says, "We are so pleased about our new website launch and the quality of the layouts and rich visuals for clients, families and our clinical colleagues to see the differences that matter at Brookhaven Retreat. We wanted to be able to capture the real beauty and privacy of our grounds where many of our clients have attested to the healing power of the natural environment at Brookhaven Retreat, including those experiencing grief and loss of a loved one."
About Brookhaven Retreat
Brookhaven Retreat is a women's treatment center nestled on a naturally beautiful 48-acre site secluded in the foothills of the Great Smoky Mountains. It has helped hundreds of women across the United States overcome depression, trauma, anxiety, substance use and a range of other behavioral health challenges. Brookhaven's Founder, Jacqueline Dawes, has predicated its gender-specific treatment on "healing emotional breakage" for women. In this way, she has established a sanctuary and a place where women can feel safe, secure and cared for by a staff of highly trained professionals.