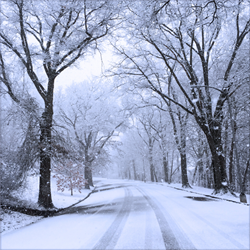 Knoxville, TN (PRWEB) December 23, 2015
Brookhaven Retreat® LLC, a unique residential treatment facility exclusively for women with emotional and mental health challenges, and/or substance abuse issues, announces "Code White" for Severe Weather Warnings as the Safety Code of the Month for December.
Each month in the in-house newsletter, Brookhaven Retreat staff members are asked to review the aspects of a given emergency code to keep the information fresh in everyone's minds. This month, chosen for review was Code White, which indicates a severe weather warning, either an actual sighting or an expectation of severe weather in the immediate area.
While Brookhaven Retreat never closes, during periods of inclement weather, staff members may be required to work beyond their usual shifts and/or may require an occasional overnight stay. This could occur when the next shift is unable to get into work due to unsafe and hazardous roads.
As part of their protocol in any code, certain steps must be taken to ensure safety. The National Weather Service announces a Severe Weather Warning, the Safety Officer or highest level of authority in the facility will implement the following procedures. The specifics of the procedure, as previously taught in training sessions and published in the in-house newsletter, Lotus Whispers, are as follows:
1. Page "Code White" clearly three times over the loud speaker and the phone system.
2. Once all clients, staff, and visitors are in the dining room, have them retreat into one of the four treatment rooms located in the back of the dining room. All rooms occupied by clients need to have a staff member present.
3. All staff members are to have their flashlights readily available.
4. Front Office staff or Floor Manager is to take the portable phone and weather alert radio into a treatment room.
5. A staff member will take a head count to ensure that every client and employee on site is accounted for.
Preparedness is a priority according to Brookhaven Retreat's founder, Jacqueline Dawes. "It's so important to have a plan for any kind of emergency," she says. "In order to offer the best care possible, we must anticipate all manner of issues that might unexpectedly arise. Our commitment to our clients, while they're with us and even long after they are finished with formal treatment, is unwavering."
About Brookhaven Retreat
Brookhaven Retreat is a women's treatment center nestled on a naturally beautiful 48-acre site secluded in the foothills of the Great Smoky Mountains. It has helped hundreds of women across the United States overcome depression, trauma, anxiety, substance use and a range of other behavioral health challenges. Brookhaven's Founder, Jacqueline Dawes, has predicated its gender-specific treatment on "healing emotional breakage" for women. In this way, she has established a sanctuary and a place where women can feel safe, secure and cared for by a staff of highly trained professionals.