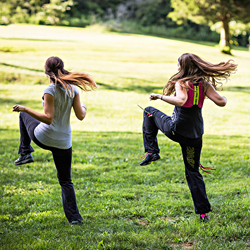 Knoxville, TN (PRWEB) September 29, 2015
Brookhaven Retreat® LLC, a unique residential treatment facility exclusively for women with emotional and mental health challenges, and/or substance abuse issues observes National Women's Health and Fitness Day on Sept. 30, 2015.
Considered the nation's largest annual health promotion event for women of all ages, National Women's Health & Fitness Day is a public/private good health partnership organized by the Health Information Resource Center (HIRC), a 23-year old national clearinghouse for professionals who work in consumer health markets.
This unique national program—with participation by local organizations throughout the U.S.—focuses attention on the benefits of regular physical activity and health awareness for women. Hundreds of local organizations throughout the country, including Brookhaven Retreat, will host women's health and fitness events at hospitals, health clubs, park and recreation districts, local health organizations, schools, retirement communities, houses of worship, senior centers, and other community locations.
Brookhaven Retreat's mission is to help clients develop a well-rounded and healthy lifestyle, which includes balancing physical, emotional, social and spiritual needs for a successful life and a sustained recovery from mental health and addiction problems.
As part of The Lily Program®, fitness activities such as walking, dancing, Zumba, Barre class, body sculpting and hula-hooping are offered to clients for their overall wellness. On this day of observance, therapists will turn their attention toward the connection between mental health and physical activity, and the long-term benefits of regular exercise.
"It's so easy to put physical activity at the bottom of our list," says Brookhaven Retreat founder, Jacqueline Dawes, "though we make sure that doesn't happen during treatment here. We also aim to make it as enjoyable as possible. There's no reason it should be something to dread. As one gets moving and experiences the pleasure of endorphins releasing in the brain during exercise, they quickly realize how much better they feel, how much easier they can process information and even how much deeper they sleep at night. It's wonderful for depression."
About Brookhaven Retreat
Brookhaven Retreat is a women's treatment center nestled on a naturally beautiful 48-acre site secluded in the foothills of the Great Smoky Mountains. It has helped hundreds of women across the United States overcome depression, trauma, anxiety, substance use and a range of other behavioral health challenges. Brookhaven's Founder, Jacqueline Dawes, has predicated its gender-specific treatment on "healing emotional breakage" for women. In this way, she has established a sanctuary and a place where women can feel safe, secure and cared for by a staff of highly trained professionals.