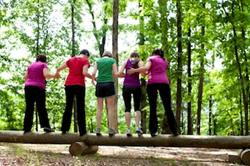 Knoxville, TN (PRWEB) May 14, 2014
Led by the U.S. Department of Health and Human Services Office on Women's Health, May 11-17 is designated as National Women's Health Week. The nationwide campaign aims to "empower women to make their health a priority."
"Women's health" is a broad term that includes a woman's physical and mental wellness. Eating healthfully, staying active, getting regular checkups, avoiding unhealthy habits and paying attention to mental health make up what it means to be a "well woman." Brookhaven Retreat's Lily Program®, a 90-day treatment plan, is built around a holistic approach to getting well and staying well.
Mental health illnesses and substance abuse can wreak havoc on the body's ability to function properly, and untreated medical needs make recovery difficult. Brookhaven Retreat encourages women to take control of their medical needs including understanding diagnoses, medications, appointments and pain management. During treatment, nurses are on staff 24/7, and program counselors schedule and accompany women to their medical appointments.
The registered dietitian on staff offers women the chance to work on their dietary needs and establish a healthy relationship with food. Mental health disorders such as depression impact nutrition drastically. During individual and group meetings with the dietitian, women address their body's nutritional needs to promote emotional recovery.
Badminton, volleyball, running and fitness classes are just a few of the opportunities provided at Brookhaven Retreat that build empowerment and self-esteem and reduce depression. Staying active and playing sports games increases endorphin production to the brain, boosting one's mood. Exercise also benefits the heart by reducing blood pressure and stress levels. Participating in group games and activities gives women an opportunity to practice trusting others and build their leadership and interpersonal skills.
Each primary therapist, along with the psychiatrist, works with individual women to address their unique mental and emotional health needs. Individual and group psychotherapy sessions explore feelings and events that have left behind emotional scars. Women are taught skills to identify and regulate their emotions so they can then establish coping skills that are conducive to long-term wellness.
To be truly well, it is crucial to focus on all aspects of wellness. During the week of May 11-17, Brookhaven Retreat will continue to focus on women's health by addressing the physical, medical, nutritional, and mental health needs so crucial to a fulfilling life.
About Brookhaven Retreat
Brookhaven Retreat is a women's treatment center nestled on a naturally beautiful 48-acre site secluded in the foothills of the Great Smoky Mountains. It has helped hundreds of women across the United States overcome depression, trauma, anxiety, substance use and a range of other behavioral health challenges. Brookhaven's Founder, Jacqueline Dawes, has predicated its gender-specific treatment on "healing emotional breakage" for women. In this way, she has established a sanctuary and a place where women can feel safe, secure and cared for by a staff of highly trained professionals.