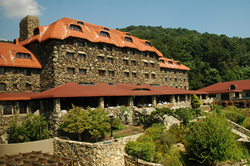 Knoxville, TN (PRWEB) April 16, 2015
Brookhaven Retreat, a unique residential treatment facility exclusively for women with emotional and mental health challenges, and/or substance abuse issues will host a workshop to focus on preventing post-rehab relapse April 24 and 25 at the Grove Park Inn, located in Asheville, NC.
Inner Critic Work and Practice will be presented by Dr. Kathryn Elliott, Ph.D., LPC-S, a Licensed Marriage and Family Therapist. As director of Anthetic Psychology Center in Lafayette, LA and co-author of Disarming Your Inner Critic, Dr. Elliott will provide Brookhaven Retreat staff with insight on preventing relapse following treatment for mental health challenges such as depression, anxiety and stress, emotional challenges such as guilt, fear and anger, and substance abuse issues like prescription addiction, substance abuse, alcohol abuse, and chemical dependency. She has been featured on Web-MD, NPR, Good Housekeeping and Modern Bride.
To ensure the most successful treatment plans are in place for all guests and alumnae, the training session ensures a one-on-one training during this two-day workshop.
Jacqueline Dawes, founder of Brookhaven Retreat adds, "Our mission is to help set our clientele on a path they can stay on long after leaving us. It's important to note that we have many opportunities for staff members to participate in continued learning workshop throughout the year to keep us on a path of continued success as well."
Joining Dawes at the workshop will be staff members including: Katherine Myers, Lana Wilcox, Marlaina Kincaid, Sharon Moore, Deby Torbett, Julia Wilson, Charity Coyle, Erin Laubenheimer, Darlene Jiles, and Dr. Kelly Ownby, M.D.
A full training program will be offered at Brookhaven Retreat in Seymour, TN on May 6 and 7, 2015.
About Brookhaven Retreat
Brookhaven Retreat is a women's treatment center nestled on a naturally beautiful 48-acre site secluded in the foothills of the Great Smoky Mountains. It has helped hundreds of women across the United States overcome depression, trauma, anxiety, substance use and a range of other behavioral health challenges. Brookhaven's Founder, Jacqueline Dawes, has predicated its gender-specific treatment on "healing emotional breakage" for women. In this way, she has established a sanctuary and a place where women can feel safe, secure and cared for by a staff of highly trained professionals.