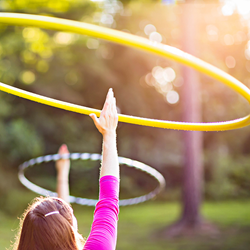 Knoxville, TN (PRWEB) October 06, 2015
Brookhaven Retreat ® LLC celebrated World Hoop Day October 3 with a hula hooping class as a form of therapy, exercise and mindfulness.
The class was given by Dana Setzer, Program Counselor and Zumba instructor, who is also the Hula Hooping Instructor at Brookhaven Retreat. She leads fitness, nutrition and health-related groups. Hula hooping is a socially interactive way to increase muscle tone for better posture and physical confidence.
Setzer, a 2008 summa cum laude graduate of East Tennessee State University, has had training in dialectical behavior therapy, trauma, PTSD and traumatic grief, and also received her Zumba Instructor Basic Steps Level 1 License in July 2013.
"You can't help but smile and laugh, especially as a beginner," she says. "It's a challenge and the more you stick with it, the more you see positive results and the more you want to do it."
The World Health Organization estimates approximately 450 million people suffer from some form of mental or neurological disorder, and that roughly one out of every four people will suffer at some point in their lives. Mindfulness can be taught and practiced in many different ways. Hula hooping is a very light-hearted, physical approach.
"It's important for us to make time for pleasurable activities for clients who are suffering from depression, anxiety, bereavement, drug and alcohol addiction, among other things," says Jacqueline Dawes, founder of Brookhaven Retreat. "Laughter is so therapeutic and the core strength gained from hula hooping is undeniable. It also promotes mindfulness, which is focusing on the present moment. The ability to be mindful means not getting carried away by thoughts that produce stress and anxiety."
About Brookhaven Retreat
Brookhaven Retreat is a women's treatment center nestled on a naturally beautiful 48-acre site secluded in the foothills of the Great Smoky Mountains. It has helped hundreds of women across the United States overcome depression, trauma, anxiety, substance use and a range of other behavioral health challenges. Brookhaven's Founder, Jacqueline Dawes, has predicated its gender-specific treatment on "healing emotional breakage" for women. In this way, she has established a sanctuary and a place where women can feel safe, secure and cared for by a staff of highly trained professionals.