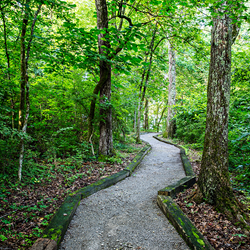 Knoxville, TN (PRWEB) October 07, 2015
Brookhaven Retreat will observe World Mental Health Day on October 10, as part of Mental Illness Awareness Week, with the theme for 2015: Dignity in Mental Health.
Clients and staff members at Brookhaven Retreat will join in a walk around the beautiful grounds of the campus in Seymour, TN, to commemorate the day with an activity that helps clients practice mindfulness.
Observed for the first time in 1992, World Mental Health Day began as an annual activity of the World Federation for Mental Health by the then Deputy Secretary General Richard Hunter. Since that time, it has become the largest and most widely promoted education and advocacy program of the World Federation for Mental Health.
According to the World Health Organization website, people around the world are still being deprived of their human rights as they pertain to mental and psychological disabilities. There is discrimination, emotional, physical and sexual abuse, as well as poor quality care due to a lack of qualified professionals in the field of mental health. For this reason, the theme was chosen, and is designed to bring awareness to mental health legislation, a vital means of addressing the situation.
Jacqueline Dawes, founder of Brookhaven Retreat, is especially driven by the importance of dignity for all clients in her facility. "Our purpose to help women overcome real issues. The fact that they need help doesn't make them any less worthy of respect than anyone else. We aim to guide, empower and redirect them so they are able to regain control of their lives, and remain healthy for the rest of their lives. Degradation, which is unjust to begin with, does absolutely no good for those who already feel like the world is against them."
According to the National Alliance on Mental Illness, approximately 1 in 5 adults in the U.S.—43.7 million, or 18.6%—experiences mental illness in a given year. In addition, approximately 1 in 25 adults in the U.S.—13.6 million, or 4.1%—experiences a serious mental illness in a given year that substantially interferes with or limits one or more major life activities.
"Many different variables can affect our mental state," Dawes adds. "We as human beings go through difficulties in their lives, no matter who we are, and as a basic requirement, legislation must guarantee equal rights for people with psychosocial disabilities, no matter where they go, whether it happens to be in the context of mental health care or out in the community."
About Brookhaven Retreat
Brookhaven Retreat is a women's treatment center nestled on a naturally beautiful 48-acre site secluded in the foothills of the Great Smoky Mountains. It has helped hundreds of women across the United States overcome depression, trauma, anxiety, substance use and a range of other behavioral health challenges. Brookhaven's Founder, Jacqueline Dawes, has predicated its gender-specific treatment on "healing emotional breakage" for women. In this way, she has established a sanctuary and a place where women can feel safe, secure and cared for by a staff of highly trained professionals.