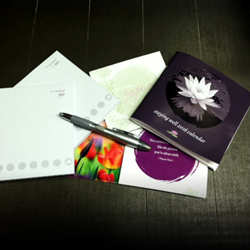 Knoxville, TN (PRWEB) November 04, 2015
Every year, Brookhaven Retreat ® LLC reaches out to 20,000 psychiatrists across the nation as a way to identify referrals for clients upon the conclusion of their treatment at Brookhaven Retreat, introduce employment opportunities and connect with clinicians.
Along with updates about this year's progress, including the recently redesigned website, and the dates of the annual meeting of the American Psychiatric Association, recipients will enjoy a personalized notepad and a 13-month "Staying Well" calendar with beautiful animal and nature images and motivational quotes. They will also receive a Brookhaven Retreat stylus pen and highlighter, and an inspirational full-color quote booklet full of favorite quotes chosen by Brookhaven Retreat staff members.
The letter explaining Brookhaven Retreat's mission alerts psychiatrists to the fact that Brookhaven Retreat is in need of ongoing providers to work with clients after their stay. Contact information is requested of those psychiatrists who will accept adult female referrals from Brookhaven Retreat. It reads, "Let us take this opportunity to thank you for working with a population that needs special professional help and for referrals."
The mail-out also helps Brookhaven Retreat touch base with clinical colleagues and connect with psychiatrists who may not know of them or their important mission. Dr. Kelly Ownby, Board Certified Psychiatrist, is an example of the success rate of the mail-out. After receiving the mail-out, Dr. Ownby eventually joined the Brookhaven Retreat staff as Treating Psychiatrist.
Brookhaven Retreat's founder Jacqueline Dawes, says, "This will be the second year we have included male psychiatrists to our mailing list. Psychiatrists have come to love getting our package in the mail because it's like receiving a gift with the personalized notepad and calendar, which helps them keep on top of important dates, such as the APA meeting."
Dawes, adds, "It's important for us to identify our clinical colleagues, know who they are and promote a dialogue that may lead to a stronger professional connection. The mail-out is an effective way to do that and we've enjoyed the results, such as the case with Dr. Ownby. We may not have connected with her if we didn't put ourselves on her desk with information about what we do and keepsake reminders that also come in handy for organizational and motivational purposes."
About Brookhaven Retreat
Brookhaven Retreat is a women's treatment center nestled on a naturally beautiful 48-acre site secluded in the foothills of the Great Smoky Mountains. It has helped hundreds of women across the United States overcome depression, trauma, anxiety, substance use and a range of other behavioral health challenges. Brookhaven's Founder, Jacqueline Dawes, has predicated its gender-specific treatment on "healing emotional breakage" for women. In this way, she has established a sanctuary and a place where women can feel safe, secure and cared for by a staff of highly trained professionals.