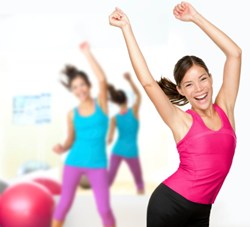 Knoxville, TN (PRWEB) August 13, 2013
In August, Brookhaven Retreat staff member Dana Setzer received her certification to teach Zumba® classes. Music and movement are powerful tools in the mental health recovery process, and Brookhaven Retreat is excited to provide this activity to the women in its program.
Brookhaven Retreat finds music to be a powerful tool in the recovery process from mental health and substance addiction. Women connect with music. It can enhance mood and help women explore emotion. Music can also help women connect with themselves and with others through movement and activity, which can be daunting for women recovering from trauma or isolation.
Research has shown that music helps manage stress and improve social connection. A Taiwanese review found that music can aid treatment for depression, anxiety and substance abuse. Women identify with music, and Brookhaven Retreat has found that listening to and playing music can improve women's mood and open them to other forms of therapy.
Zumba blends music with movement in a type of exercise class. This combines the powerful benefits of music with the mental health benefits of exercise. Research shows that physical activity has been linked to reduced levels of anxiety and depression. Exercise triggers the release of feel-good chemicals in the brain, distracts women from negative thinking and builds a positive attitude.
By combining music with movement, women are able to improve their physical health through exercise while boosting mental wellness and mood. Brookhaven Retreat offers evening Zumba classes three nights a week alongside its walking trails and gym outings. It is excited to have a member of its staff certified to teach Zumba, and is thrilled to offer the benefits of this class to the women in its residential program.
About Brookhaven Retreat
Brookhaven Retreat is a women's treatment center nestled on a naturally beautiful 48-acre site secluded in the foothills of the Great Smoky Mountains. It has helped hundreds of women across the United States overcome depression, trauma, anxiety, substance use and a range of other behavioral health challenges. Brookhaven's Founder, Jacqueline Dawes, has predicated its gender-specific treatment on "healing emotional breakage" for women. In this way, she has established a sanctuary and a place where women can feel safe, secure and cared for by a staff of highly trained professionals.