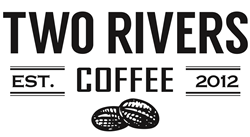 Extra fresh and filter brewed using only the highest quality, 100 percent Arabica coffee beans.
NEW YORK (PRWEB) December 22, 2013
Two Rivers Coffee (formerly Brooklyn Bean Rostary) was ranked the #1 best seller in the gourmet single-serve coffee division on Amazon.com December 14, out-selling more than 4,800 single-serve coffee choices storewide. Two Rivers Coffee Company's single-cup coffees are blended for use with all Keurig K-cup compatible brewers to deliver full-bodied flavor and aroma to suit every coffee lover's mood.
A perfect Christmas gift for the coffee connoisseur, Two Rivers Coffee offers an innovative take on standard roasts and set out to create single cup coffees to suit every taste including: light roast breakfast blends in regular and decaf; classic medium roasts (Corner Donut Shop Blend; Boardwalk Blend, Colombian Blend and Brooklyn Bridge Blend); French roast, dark roasts, Espresso; and irresistible flavored roasts with names like Cinnamon Subway, Oh Fudge!, Coney Island Caramel, Maple Sleigh, Vanilla Skyline and Hazelnut.
Two Rivers Coffees are unique, diverse and brewed with love. The highest quality coffee beans are selected from around the world and roasted locally for maximum freshness. Two Rivers' slow-roasting process gives its coffees a rich, robust flavor with no bitter aftertaste. The carefully balanced roasting process delivers aromatic, authentic-tasting coffee blends to make every cup exceptional.
Two Rivers Coffee's single serving cups are:

Compatible with all Keurig brewers.
Brewed using a patent pending tension-based filter system.
Revolutionary "roast2cup" roasting process ensures a rich, smooth cup of coffee every time.
Extra fresh and filter brewed using only the highest quality, 100 percent Arabica coffee beans.
"We are proud of the success we're experiencing with Two Rivers coffees," says Steven Z. Schreiber, co-founder and vice president of Two Rivers Coffee Company. "In just a few years we have built a loyal fan base who can't get enough of their favorite blends, and our sales prove it."
For more information on the Two Rivers Coffee "Workaholic" line of single-serve K-cup coffees, visit the Amazon.com product website or the Two Rivers Coffee website.
About Two Rivers Coffee:
Established in 2010, the Two Rivers Coffee Company is a pioneer in introducing Keurig compatible filtered single-serve coffee pods. Decades of experience in product engineering led to the design of Two Rivers' unique brewing technology, ensuring that every cup of coffee tastes as fresh and delicious as the last. Two Rivers brings a superior level of experience and knowledge that guarantees quality with every order.
Two Rivers runs multiple dedicated product lines and has the capacity to manage order fulfillment of up to 20 million cups per month, and up to 400,000,000 cups annually as demand grows. Expert roasting is guaranteed, along with the potential to blend new, custom roast flavors to fulfill any unique request. Two Rivers guarantees super-fast turn around with only a 12-week concept-to-delivery lead-time for initial orders. Unlike other Keurig alternative cups, our patented, tension-based covered filtration systems give our cups the look and feel of the original K-cups that consumers have already embraced.
The Keurig® and "K-Cup® names are registered trademarks of Keurig, Inc. and GMCR, and are not affiliated with Two Rivers Coffee.Two Rivers Coffee is available at select retailers nationwide, and through Amazon.com.
###