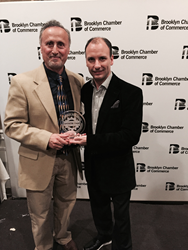 The Brooklyn-Made Awards celebrate the very best makers in the borough, and Riva Precision Manufacturing absolutely falls into that category. From their location in the Brooklyn Army Terminal, they develop and manufacture some of the finest jewelry in the
New York, NY (PRWEB) November 05, 2015
On Wednesday October 28th, 2015, the Brooklyn Chamber of Commerce hosted the third annual Brooklyn Made Awards at Gargiulo's Restaurant in Coney Island, New York. The awards ceremony followed the annual membership meeting and trade show for the Brooklyn Chamber of Commerce, which was held earlier the same day. Riva Precision Manufacturing took home the honors of winning the Apparel and Accessories category of Brooklyn Made.
The Brooklyn Made Awards, presented by Sayar Lonial, Senior Director of Marketing and Communications at the NYU Tandon School of Engineering, highlight outstanding manufacturing and technology businesses in the borough of Brooklyn. Six categories of distinction are identified: food, beverage, design, apparel and accessories, hardware and technology, and MWBE. Riva Precision Manufacturing, which moved from Long Island City to the Brooklyn Army Terminal in 2013, is a prominent fine jewelry manufacturer, well-known in the trade for product development with medium to large-sized brands. Actively engaged in philanthropic activities, the company supports Jewelers for Children through a variety of in-house initiatives, and has historically partnered within the community to give back locally in Brooklyn, most recently with a donation to a local Lutheran hospital.
There to receive the award on behalf of Riva Precision Manufacturing was Ted Doudak, CEO, and Patrick Bennett, Chief Marketing Officer for the company. An advocate for manufacturing at home, Ted Doudak says, "Riva is an agent of change…change for both our employees and our economy. When we manufacture in Brooklyn, we change Brooklyn."
Carlo A. Scissura, Esq., President and CEO of the Brooklyn Chamber says, "The Brooklyn-Made Awards celebrate the very best makers in the borough, and Riva Precision Manufacturing absolutely falls into that category. From their location in the Brooklyn Army Terminal, they develop and manufacture some of the finest jewelry in the world, and the Chamber is proud to present them with this award."
For more information about Riva and their manufacturing operations, visit their website, Facebook, Twitter or email info(at)rivaprecision(dot)com.
About Riva Precision Manufacturing
Riva Precision is a state-of-the-art manufacturing facility located in The Brooklyn Army Terminal. Founded by Ted Doudak in 1988, hands-on experience and the pursuit of excellence combine to provide a full-service jewelry manufacturing operation. Traditional jewelry making, casting, setting, laser engraving, laser welding, stamping, computerized prototyping, polishing, chain making, enameling, and model making are examples of the expertise their technicians and craftsmen have mastered. Consistently embracing new technologies, Riva Precision strives for excellence in every conceived piece of jewelry, as well as in encouraging a positive workplace.
About the Brooklyn Chamber of Commerce
The Brooklyn Chamber of Commerce (BCC) is a membership-based business assistance organization which represents the interests of over 2,200 member businesses, as well as other businesses across the borough of Brooklyn. The Brooklyn Alliance is the not-for-profit economic development organization of the Chamber, which works to address the needs of businesses through direct business assistance programs for all industry sectors, including the industrial and manufacturing sector in Brooklyn.