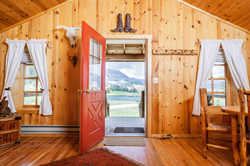 Travel Channel gives points to Brooks Lake Lodge for its "cozy abodes, delicious dining and curated activities surrounded by Rocky Mountain peaks."
DUBOIS, Wyo. (PRWEB) June 06, 2019
"Sometimes real life is too full of adventure," as Travel Channel put it when it named the "Best Places to Relax in Wyoming." The article offers a variety of options for travelers who want to just chill – including a visit to the all-inclusive Brooks Lake Lodge & Spa near Yellowstone and Jackson Hole, Wyoming, for its restful ranch offerings and all-inclusive accommodations.
The intimate resort is no stranger to creating an environment for its guests that is truly relaxing. Travel Channel gives points to Brooks Lake Lodge for its "cozy abodes, delicious dining and curated activities surrounded by Rocky Mountain peaks," adding that "a facial or massage at the on-site spa is the perfect way to finish off a day of hiking, trail-riding or fishing."
Relaxation at the lodge begins upon arrival as guests make the turn off a quiet, hilly Wyoming highway to take the final five-mile stretch down a winding narrow dirt road before the woods clear and Brooks Lake Lodge appears. The historic lakefront ranch rests peacefully below a wooded mountain, facing a spectacular Pinnacle Buttes ridgeline. Guests are now officially off the grid. Phones can be tossed into the suitcase, because there is no cell service and, while internet is available, the real connection to make here doesn't require a password.
And guests don't need to reach for their wallets when dining; all meals are included in an overnight stay – plus 4 p.m. teatime with fresh baked pastries, crackers, cheese and fruits to enjoy fireside. And breakfast, lunch and dinner offerings are in a league of their own with Executive Chef Whitney Hall changing up the menu each season, adding locally sourced ingredients into her innovative and hearty dishes while keeping some of the favorites so returning guests aren't sorely disappointed (there was almost a mutiny when Chef Whitney temporarily took the fried cookie dough off the menu).
The lodge offers plenty of ways to chill, from lounging in an Adirondack chair on the giant patio overlooking the lake while sipping a freshly made huckleberry margarita to playing chess in the lobby, from a leisurely canoe paddle across the alpine Brooks Lake that the lodge was named for to relaxing in the giant 11-by-17-foot outdoor hot tub at the lodge's Rocky Mountain Spa, where guests can book special treatments.
Guests who like a more active take on relaxation can choose their own adventure with such included outdoor activities as horseback riding, fly-fishing and hiking the scenic trails taking in the wildflowers and wildlife spotting along the way. In the evenings, guest can belly up to the onsite Cowboy Bar for a nightcap before retiring to a lodge suite or private cabin for a quiet night's sleep in the hand-crafted lodgepole pine beds topped with crisp linens and goose down comforters.
For the late summer season, Brooks Lake Lodge has some relaxing specials such as the Reel In Late Summer deal, with special pricing for fishing enthusiasts, and the new Huckleberry Season deal, with special pricing on accommodations and a variety of incredible culinary offerings inspired by the deliciously tart little mountain berry.
About Brooks Lake Lodge & Spa
Brooks Lake Lodge & Spa, a nearly 100-year-old historic guest ranch near Jackson Hole, Grand Teton National Park and Yellowstone National Park, is located one mile from the North American Continental Divide, with views of the Pinnacle Buttes, Austin's Peak and Brooks Mountain. Surrounded by evergreen forests, wildlife and alpine Brooks Lake, the exclusive, all-inclusive Wyoming Rocky Mountain resort offers five-star service, luxury accommodations and gourmet dining. Named a 2018 Best Lake Resort by National Geographic Traveler magazine, a 2017 Western Landmark and hidden gem by Western Art & Architecture, a U.S. Rocky Mountain Stunning Inn & Lodge by Vacation Idea, a Top 10 Luxury Wildlife Lodge by Money Inc., Where to Go Off the Grid by the Travel Channel, and a Travel + Leisure Great American Lodge, Brooks Lake Lodge's rates include lodging, meals, activities and spa access. For more information visit http://www.brookslake.com or call 866.213.4022.