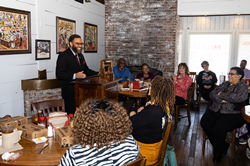 Black History is our story, our collective story — the triumphs, victories and contributions.
JACKSON, Tenn. (PRWEB) March 02, 2022
Brooks Shaw's Old Country Store recently celebrated Black History Month with guest speaker Lane College President Dr. Logan Hampton, who encouraged attendees to commit to working together to make the future brighter. The program is the first in the restaurant's Lunch & Learn series and was presented in celebration of the Jackson-Madison County Bicentennial, running from August 2021 through August 2022.
Hampton discussed the historical context of soul food and shared the history of Lane College and how several of its students were a part of the local civil rights movement (including those known as the "Freshman Four") to desegregate the "whites only" lunch counter at the F.W. Woolworth's store on October 27, 1960.
"It is because of a group of Lane students who made it possible for us to vote, shop, eat and sit wherever we want in Jackson, Tennessee," Hampton said. "They understood that God was on their side." In sharing the story of Lane College Founder Bishop Isaac Lane who was born in slavery and a self-taught educator who raised $240 to build a school in 1882, Hampton emphasized how racial unity helped move the school and community forward. "Bishop Lane continued to preach when his churches were burned down, and with the help of some good white and Black people, he rebuilt," Hampton said.
Hampton recognized the Shaw family for acknowledging Black History Month. "Clark was a freedom fighter for justice," Hampton said of the restaurant's late owner. "When many would have just ignored history, he determined we must learn from the past so that it wouldn't be repeated."
Hampton attended the unveiling of the Old Country Store's exhibit, "Faith - Courage - Sacrifice - Freedom," in February 2020 which tells the story of Lane College students Shirlene Mercer, Ernest Brooks Sr., Henry Moses, Kimmie Davis and others, who sat at the "whites only" lunch counter at the F.W. Woolworth's store (formerly located where Jackson City Hall now stands). The exhibit includes three of the original chairs from that Woolworth's store in the 1960s, and is also the very place where the original founder Brooks Shaw met his wife, Anne.
Old Country Store owner Juanita Shaw said, "There's no better time for the community to come together, unify and learn." Attendees had lunch in special Black History-themed boxes that the store ordered for the event. "African Americans couldn't go into restaurants and buildings, so they would have to pack their lunches in shoeboxes. When I learned this, it was new to me. We want our guests to be able to share the information on the outside of the box with their friends and family about how things used to be," she said.
Several local dignitaries attended the Lunch & Learn including Madison County Mayor Jimmy Harris and former Madison County Sheriff David Woolfork. "I'm glad Old Country Store started the Lunch & Learn series, and it's important that the first one is for Black History Month. I enjoy listening to President Hampton; he always delivers well-thought out speeches." Woolfork added, "We've come a long way, and we still have a ways to go," he said. Woolfork is the first Black and longest serving sheriff in Madison County and is the second Black sheriff elected in the state of Tennessee.
In his speech, Hampton emphasized the importance for everyone to learn and share Black History. "Black History is our story, our collective story — the triumphs, victories and contributions," he said.