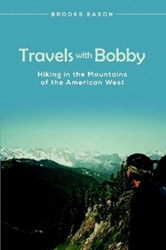 JACKSON, Miss. (PRWEB) June 12, 2015
Brooks Eason captures the natural beauty and majesty of the American West in his new memoir, "Travels with Bobby: Hiking in the Mountains of the American West" (published by Lulu). Readers who liked Bill Bryson's "A Walk in the Woods" and Cheryl Strayed's "Wild" should enjoy "Travels with Bobby."
Eason and Bobby Ariatti met in 1993, and the two soon discovered that they shared a common bond: an abiding love for hiking and camping in the mountains. Through this bond and their trips together, they became best friends. They set out on their first trip in 1996 - to Yosemite National Park - and they have been on a hiking trip to the mountains of the West nearly every year since then.
In "Travels with Bobby," Eason tells the stories of their first six trips - to Yosemite, Glacier National Park in Montana, Grand Teton National Park in Wyoming and other beautiful settings in the West - where they met new friends, marveled at the beauty of the mountains and enjoyed campfires and each other's company. Eason writes with affection about the joy of hiking with his best friend in some of the most beautiful places in America, shares the history of those places and the mountain men who discovered them and, maybe best of all, recounts the many amusing things that happened to the two friends on their adventures together, including surviving attacks by a sprinkler system and free-range cow; undergoing head suturing with only Scotch to kill the pain; winning a tattered sweatshirt from a local in a smoky pool hall; and searching a landfill for camping equipment discarded by an angry spouse.
"Americans spend far too much time staring at their televisions and looking down at their iPhones," Eason says. His hope for "Travels with Bobby" is that it will encourage readers to untether from technology, head for the mountains, and explore the natural beauty that awaits them.
"Travels with Bobby"
By Brooks Eason
Softcover | 6 x 9 in | 326 pages | ISBN 9781483427997
E-Book | 326 pages | ISBN 9781483428000
About the Author
Brooks Eason grew up in Tupelo, Mississippi, where he learned to love hiking and camping from his father, who served as a Boy Scout leader for 60 years. Eason is a lawyer in Jackson, where he's teaching his grandchildren to love camping and the outdoors. His wife, Carrie, enjoys being outside but prefers to sleep inside.
Lulu empowers people of all ages to explore and express their interests, passions and expertise through books, photography and art. Since introducing self-publishing in 2002, Lulu has empowered creators in more than 225 countries and territories to produce nearly two million publications. Lulu Jr. allows children to become published authors, encouraging creativity, strengthening literacy and building self-esteem. Picture.com offers professional photography of collegiate and professional sports, memorable and historic events, fine art and home décor. For more information, please visit lulu.com.