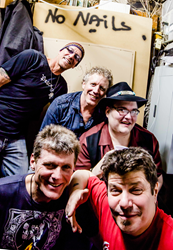 This band is a collection of songwriters, kick ass players and singers...that's pretty much sums up what I look for in a band... What they are. - John Oates (Hall and Oates)
Memphis, TN (PRWEB) December 04, 2014
Brothers Keeper, a group of seasoned musicians, have come together to put out an album that showcases their combined experience and musical sensibilities with their new release, "Todd Meadows." The debut album released in 2014, "Todd Meadows," features Rock n Roll and Americana tunes that showcase the musicianship developed over the band members' combined years of recording and touring experience. Much of the sound revolves around the group's power-trio foundation comprising of Scott Rednor on guitar, Michael Jude on bass, and John Michel on drums. Over the past twenty years, Scott Redor has been recording and touring on the national level with a multitude of different projects. In addition to working with world renowned musicians, both Michael and John have played steadily with the John Oates Band for the past fifteen years. Between the group's musical experience and a collection of guest performers, Brothers Keeper is a unique combination of musical stylings that caters to a wide range of fans.
"Todd Meadows" features 5 lead singers making each song a unique listening experience. The featured musicians heard on the album, including John Popper (Blues Traveler), Jono Mason, Jason Crosby (Phil Lesh and Friends), Glenn McClelland (Ween), DJ Logic, Joel Guzman, and Rob Eaton Jr., contribute their own unique touch to further expand upon the creative possibilities on each track. "Todd Meadows" is a collective of thought-provoking and prominent lyrics and vocal performances. The rhythm section of Jude and Michel provides a tasteful foundation for the rest of the group to elaborate melodic ideas with a subtle attention to dynamics. Tracks such as "Days Go By" feature a prominent guitar performance loaded with tasty hooks that complement the attitude and power in the song's vocals, while "Chamberlain" provides a contrast to some of the harder-hitting songs on the album by utilizing a softer-sounding approach. The album even includes an updated and hard-hitting cover of The Band's classic tune "The Weight."
"Todd Meadows" was recorded at Ardent Studios in Memphis, TN and was released on 8150 Records in fall 2014.
For more information, images, or to arrange for an interview, please contact Melissa Zeigler at Powderfinger Promotions: melissa(at)powderfingerpromo(dot)com.
Powderfinger Promotions–Independent Radio Promotion and Publicity. Since being founded in October 1994, Powderfinger has come to be regarded as a top indie radio promotion and publicity firm with ties across North America.