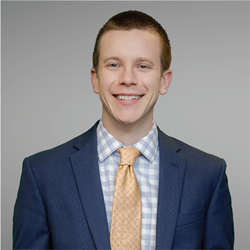 "We are so pleased to see Jack and other community leaders enhancing their knowledge and skills by participating in Leadership Carroll this year." - Ken Wolfe, President and Managing Principal at BSSF
FREDERICK, Md. (PRWEB) June 30, 2022
Jack W. McCracken, CPA, Manager at Brown Schultz Sheridan & Fritz (BSSF), has been honored by Leadership Carroll as a graduate of the Class of 2022.
Leadership Carroll is a leadership development program co-sponsored by the Carroll County Chamber of Commerce and Carroll Community College. Its purpose is to provide leaders with a combination of leadership training and community knowledge, including a description of the problems, opportunities and issues facing the Carroll County community.
"Since he joined the Firm in 2020, Jack has been an exceptional member of the BSSF team and a dedicated volunteer within the Westminster community. We are so pleased to see Jack and other community leaders enhancing their knowledge and skills by participating in Leadership Carroll this year," said Ken Wolfe, President and Managing Principal at BSSF. "Leadership Carroll is an outstanding program, and I know that our clients, team members and community partners in Carroll County will benefit greatly from dedicated leaders like Jack."
Jack is a Manager at BSSF and has over six years of experience providing audit services for governmental entities, nonprofit organizations and for-profit businesses in the manufacturing, construction, franchise and technology industries. Jack is also an avid community volunteer with Liquid Church of New Jersey, the Tim Tebow Foundation and the New York City Relief Bus. Jack graduated from Grove City College with a Bachelor of Science degree in Accounting.
A commencement event for Jack and the other Class of 2022 graduates was held at Martin's Westminster on June 14, 2022.
To learn more about Jack, please visit https://www.bssf.com/our-team/jack-w-mccracken/.
To learn more about Leadership Carroll, please visit https://carrollcountychamber.org/leadership-carroll/.
ABOUT BROWN SCHULTZ SHERIDAN & FRITZ
Brown Schultz Sheridan & Fritz is a premier advisory firm, providing accounting, assurance, tax, and consulting services across the Mid-Atlantic Region. In 2021, BSSF was nationally ranked as a Best Accounting Firm to Work For and named one of the top ten Best Firms for Young Accountants in the U.S. BSSF was also named a Top Regional Firm in the Mid-Atlantic in Accounting Today's Top 100 Firms and Regional Leaders list in 2022. Learn more at http://www.bssf.com.