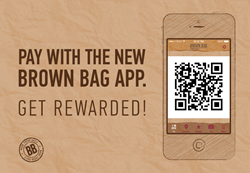 "We wanted to give our customers a faster and easier way to pay for their meals."
Washington, DC (PRWEB) September 17, 2014
Brown Bag, Inc., Washington, DC's premier provider of healthy salads, sandwiches and more to DC's harried lunch crowds and corporate catering needs, is launching a new way to pay this week in all of its DC locations. Powered by LevelUp, their new app will allow patrons to pay for their breakfast and lunch orders with their phones.
Members of Brown Bag's Loyalty Program get even more benefits. Not only will their checkouts be quick and painless, their loyalty rewards will be automatically entered and easily tracked through the app. Current Loyalty members will receive an instant $2 discount the first time they use their new Brown Bag app in-restaurant. When they've accrued $99 in loyalty points, they will earn an additional $9 to spend in any DC Brown Bag location. If you're already a Loyalty member and wondering if your previously accrued Loyalty points will transfer over, not to worry! You won't lose them; they'll be automatically linked to your account through your phone.
Other features the app includes: a full menu, list of Brown Bag locations (as well as maps and directions), and easy access to your Rewards account. Asked why he decided to offer this app to customers, Founder and President of Brown Bag, Inc., Erich Fuldner, replied, "We wanted to give our customers a faster and easier way to pay for their meals, first of all. DC is a city that moves fast and so do our customers. We advertise 'cuisine on the fly', and we try to deliver healthy meals as quickly as possible to all of those working and living in the DC area, so they can get on with their days. Our new app puts everything at their fingertips: the menu, their Loyalty Rewards account balances, as well as Loyalty accrual benefits, and fast checkout. We think people are going to be very happy with the way this app works for them."
If you're interested in downloading Brown Bag's free app, simply download it from the iPhone App Store or Google Play, and go into your nearest Brown Bag for a meal that's even faster than their usual "on-the-fly".
About Us
Brown Bag opened its first store in 2002 with the goal of serving honest food in a fun, casual environment. As they have grown, they've stayed true to their values of using fresh local, natural ingredients. They are committed to honest food and reducing their impact on the environment through the use of biodegradable and compostable packaging (as well as recycled products); purchasing wind power for every store, in addition to using Energy Star equipment; using locally-sourced products; and having recycling stations in each restaurant.
Brown Bag makes their food, in house, from scratch, and they partner with local purveyors to bring their customers the closest fresh, natural products. These include:

Local Artisan Bakers producing multi-grain breads
Produce from Local Farms, when in season
All-Natural Dairy Products
Hormone-free, all-natural meats
No trans-fats or processed ingredients
Fresh-Squeezed Juices
Locally-Roasted Coffee
Homemade soups & dressings
Currently, Brown Bag has 5 corporate owned locations and two franchise locations in and around Washington, DC. You can find out more about franchising by visiting our franchise site.