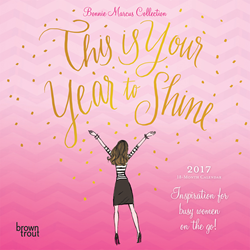 I am truly thrilled about our new collaboration with BrownTrout. They are at the top of the industry with their notable photographic calendars, and I'm excited to bring my new designs to life. Bonnie Marcus
(PRWEB) May 16, 2016
BrownTrout Publishers, Inc. is pleased to reveal their brand-new line of Bonnie Marcus Collection calendars, planners, family organizers, journals, and more at the National Stationery Show in New York City.
Bonnie Marcus, known for her award-winning fashionable designs, sells her products in thousands of retail stores around the world. Her illustrations and invitations are a "must have" among celebrities and have been spotlighted in numerous publications and holiday gift guides.
"I am truly thrilled about our new collaboration with BrownTrout," says Bonnie Marcus, CEO and Founder, Bonnie Marcus Collection. "They are at the top of the industry with their notable photographic calendars, and I'm excited to bring my new designs to life with our collection of on-trend calendars and stationery products. As a mom of three little ones, our new 'Mom on the Move' organizer is my favorite product—it's fashionable and functional, and I can't wait to put it to use!"
The highly anticipated new line of products includes calendars adorned with colorful florals, lined journals embellished with motivational sentiments, family organizers featuring Bonnie's signature fashion-inspired designs, and so much more! With soft pastels, punchy brights, and metallic gold accents, the collection is perfectly aligned with style forecasts for the upcoming year.
"Bonnie's designs are truly one-of-a-kind, and we're thrilled to add her stylish illustrations to our product lines," says Gray Peterson, Vice President, Sales and Marketing at BrownTrout. "Both Bonnie's fans and our customers are very excited to see the new collection."
The company will preview the new Bonnie Marcus Collection merchandise at the National Stationery Show in New York City.
"Bonnie Marcus Collection is a perfect fit for BrownTrout," says Mike Brown, CEO, BrownTrout Publishers, Inc. "I believe our multiyear partnership will result in many successful products."
Founded in 1986, BrownTrout is the world's largest calendar publisher. Major retail customers include Walmart; Go! Calendars; Bed, Bath & Beyond; Target, and Safeway. The licensing arrangement and agreement was brokered by HAP Consulting.
###
About Bonnie Marcus
As a wedding planner and special event coordinator in New York City, Bonnie Marcus planned hundreds of events for celebrities and notables in politics and the arts. She developed a strong fashion background, working with top-notch designers including Diane von Furstenberg. In 2002, while pregnant with her first child, she launched the Bonnie Marcus Collection, "where fashion meets paper," from her kitchen table in Westport, Connecticut. The fresh, stylish stationery collection was an instant success. Three children and over 3,000 fashionable designs later, Bonnie has created award-winning collections sold in thousands of retail stores around the world.
About BrownTrout Publishers, Inc.
BrownTrout Publishers, Inc., founded in 1986, has grown to become the worldwide market leader in calendars and other retail products. BrownTrout is recognized for its award-winning, high-quality calendars, producing a dynamic range of over 1,000 titles a year, including a strong licensed product program of celebrity, entertainment, and mainstream licenses. BrownTrout's calendars featuring Johnny Cash, Marilyn Monroe, John Wayne, and Taylor Swift®, as well as Ford, General Motors, Jeep, and eclectic licenses such as Avanti™ and Yoga Dogs™ are available from major retailers and online at http://www.calendars.com. In 2015, BrownTrout launched Continental & Grand Studio, introducing planners, journals, desk pads, and folder planners with trend-setting patterns and fashionable designs.