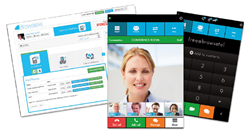 BrowseTel is now taking a key position as a proud sponsor of the forthcoming WebRTC IV conference
Atlanta, Georgia (PRWEB) June 16, 2014
Without any controversy, the latest developments in WebRTC technology would change the traditional way Internet users chat, send messages, perform video conferences, share files, and other communication activities. In every respect, Internet browsing is going way beyond the traditional, static, and content-only experience for users; a paradigm shift is being witnessed today through the latest web solutions that allow real-time communication inside a browser window without any extra add-ons or software. Today, BrowseTel, as a platinum sponsor, announces the kick-off of WebRTC IV Atlanta Conference.
With an inside view of the new pioneer trend in Real-Time Communication technology, BrowseTel is now taking a key position as a proud sponsor of the forthcoming WebRTC IV conference. According to Matej Zvan, the CTO of BrowseTel, WebRTC IV Atlanta Conference would deal with pertinent issues relating to the integration of communication capabilities into web browsers. "WebRTC, as a developing concept in the ICT world, would take the hassles out of online video and audio streaming as users would be able to communicate with others from the interface of their browsers, Google Chrome, Opera, and Mozilla Firefox especially," he explains.
It's been noted that a number of WebRTC experts will be presenting demos to reveal how and why switching to RTC-enabled browsers would change the telecom industry. BrowseTel will present the integration of the technology to social collaboration business tool BCSocial.com. "Using a web browser that comes with a built-in functionality that permits real-time connectivity to public voice networks is a big selling point for this new technology. The beauty of it is that users wouldn't have to install any third party communication software or application on their devices. Obviously, the Internet is already changing the telecom gear to drive mankind in a new, hassle-free direction regarding video, audio, and data communication," Matej Zvan states.
According to the BrowseTel CEO Gregor Zebic, the use of a browser with a built-in communication window would help users to talk, chat, send invitations, files or messages, performing audio and video conferences and much more. He states emphatically, saying, "Imagine a communication window that is connected to the public voice networks and covered with all channels of communication inside a single browser window - this is quite revolutionary, and it's a game changer in the 21st century communication concept."
With respect to the expected impact the WebRTC technology would bring into ICT and telecom, the organizers of the conference, of which BrowseTel is a platinum sponsor, have revealed that the event is highly recommended for CEOs, small business owners, professionals, and the general public;
For more information about BrowseTel and Atlanta WebRTC IV conference, please visit http://www.browsetel.com.